The Aurora Greenmen nearly escaped Crater Stadium with a playoff victory over undefeated Dover, but the visitors were washed by a Crimson tide.
Connor McGarry scored a touchdown in overtime, and T.C. Molk found Joey Farthing in the back of the end zone on a two-point conversion attempt for the Tornadoes to survive, 43-42.
On Dover's first drive, Molk began a solid game with a quarterback sneak into the end zone to tie the game, but the Greenmen took a 14-7 lead on a similar QB sneak by Alex Moore.
The second quarter, however, almost exclusively belonged to the Tornadoes. Dover's Mitchell Martin tied the game at 14 all with a running score before the Tornadoes defense forced back-to-back fumbles on Aurora drives that led to touchdowns (Connor McGarry scored to take a 21-14 lead, while Martin made it a 28-14 game).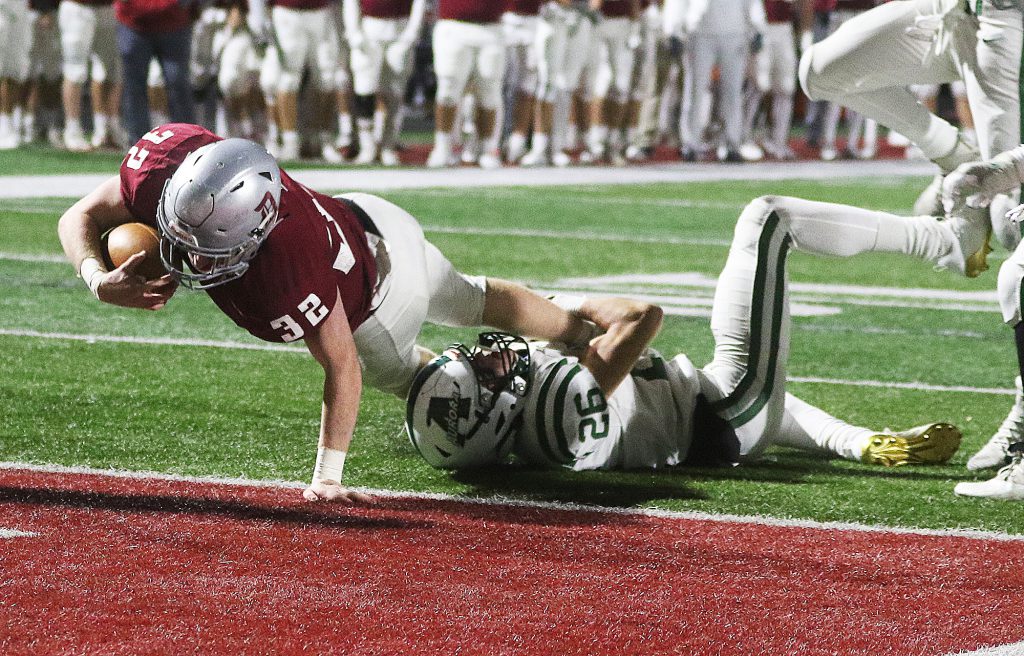 Aurora, however, did score on a Cardaman one-handed catch for a touchdown and a 28-21 score at the break. In the second half, the Greenmen ate most of the third quarter clock before scoring early in the final quarter on another Cardaman touchdown.
Dover got the ball and was facing 3rd-and-9 in their territory before quarterback Ayden Hall arced a 65-yard touchdown pass to Joey Farthing for a quick 35-28 lead with 1:06 left.
Aurora then took possession and ran another long drive before Cardaman scored his third touchdown of the night, tying the game at 35-all. After the Crimson failed to capitalize on a late drive, the game would find itself past regulation.
Aurora took the ball first in overtime and took a 42-35 lead on Jacob Matousek's roll-around to the left corner of the end zone. However, the Tornadoes cut the lead to one on McGarry's catch of a Molk pass to the left side. Instead of going for the tie and another set of possessions, Tornadoes coach Dan Ifft gambled for the win – and Molk found Aurora for a full house.
Dover improves to 11-0 and will face Kenston in the next round of Division III, Region 9 playoffs next week.