Photo: Jackie Mary Pozderac signs paperwork during arraignment.
Three district leaders at Carrollton Exempted Village Schools who were indicted for felony theft left on bond Thursday afternoon.
David Quattrochi and Mary and Mike Pozderac spoke in hushed tones with their group of attorneys in the courtroom before rising for Carroll County Common Pleas Judge Michael V. Repella, II.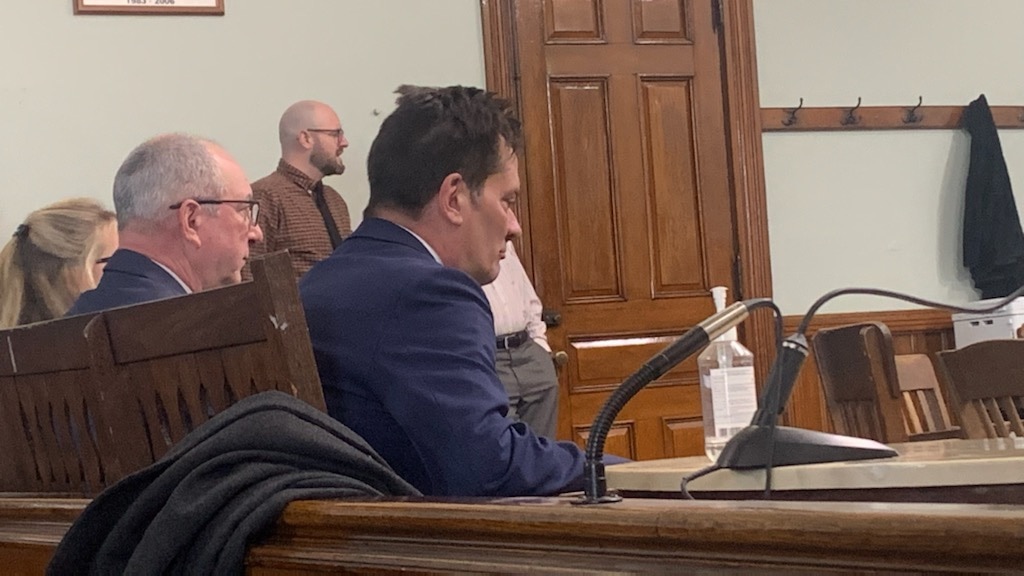 Gus Nickolas, who does not work at the school district, also faces charges in the investigation. According to the indictment, Nickolas is involved with shell companies The Phoenix Rising or Pozitively Quality Air, LLC.
State officials alleged that the four individuals stole money from the district in a scheme using the two shell companies to sell air purifiers to the school, then pocketing nearly $50,000 and splitting it among the group of four.
All defendants entered pleas of not guilty.
Former Superintendent Quattrochi, school board member Mike Pozderac, and Carrollton High School art teacher Mary Jackie Pozderac each face 10 charges:

Theft in Office, three counts of Having an Unlawful Interest in a Public Contract, Grand Theft by Deception, Telecommunications Fraud, Engaging in a Pattern of Corrupt Activity, Money Laundering, Soliciting or Accepting Improper Compensation and Representation by Present Official Prohibited
Nickolas was indicted on the following charges: Felony counts of engaging in a pattern of corrupt activity, money laundering, theft in office, grand theft, having an unlawful interest in a public contract and telecommunications fraud.
Richard Blake and Alex Bruce represented Quattrochi.
Henry Hillow represented school board member Mike Pozderac, while Daniel Misiewicz represented Mary Jackie Pozderac. Public defender Steve Kandel represented Nickolas.
None of the four defendants have given official statements at this time. There was no official statement given by the defense attorneys while the case is pending.
"Our only comment would be we entered a plea of not guilty and we'll move forward from here," said Hillow.
Judge Repella released all four on O.R. bonds, or "Own Recognizance," meaning they weren't required to pay any bond money but must adhere to some conditions.
The judge explained each defendant must return for all future court appearances, remain residents in the area, and retain the same phone numbers and home addresses.
Finally, the judge explained they must not have contact with one another regarding the case.
If the defendants violate these agreed conditions or get arrested while out on O.R. bond, then they will have to pay $100,000.
All four defendants also signed time waivers before the conclusion of the arraignment.
Judge Repella confirmed with each defendant they understand they are waiving their right to a speedy trial by signing this document.
The next court appearance is a pretrial scheduled for Thursday, February 23 at 1 p.m. Judge Repella scheduled another pretrial for Thursday, April 13 at 1 p.m.