Through an emotional week, the Minerva cross-country boys and girls team found a way to persevere and earn berths to the state tournament.
The Minerva program spent the last seven days mourning the loss of one of their runners.
Owen Grubb died last Saturday after a tree fell on his head in a tragic accident following the Lions district championship race at Cambridge.
The week consisted of love and support pouring in from not only Minerva, but from around the state of Ohio with the social media hashtag: #WeRunForOwen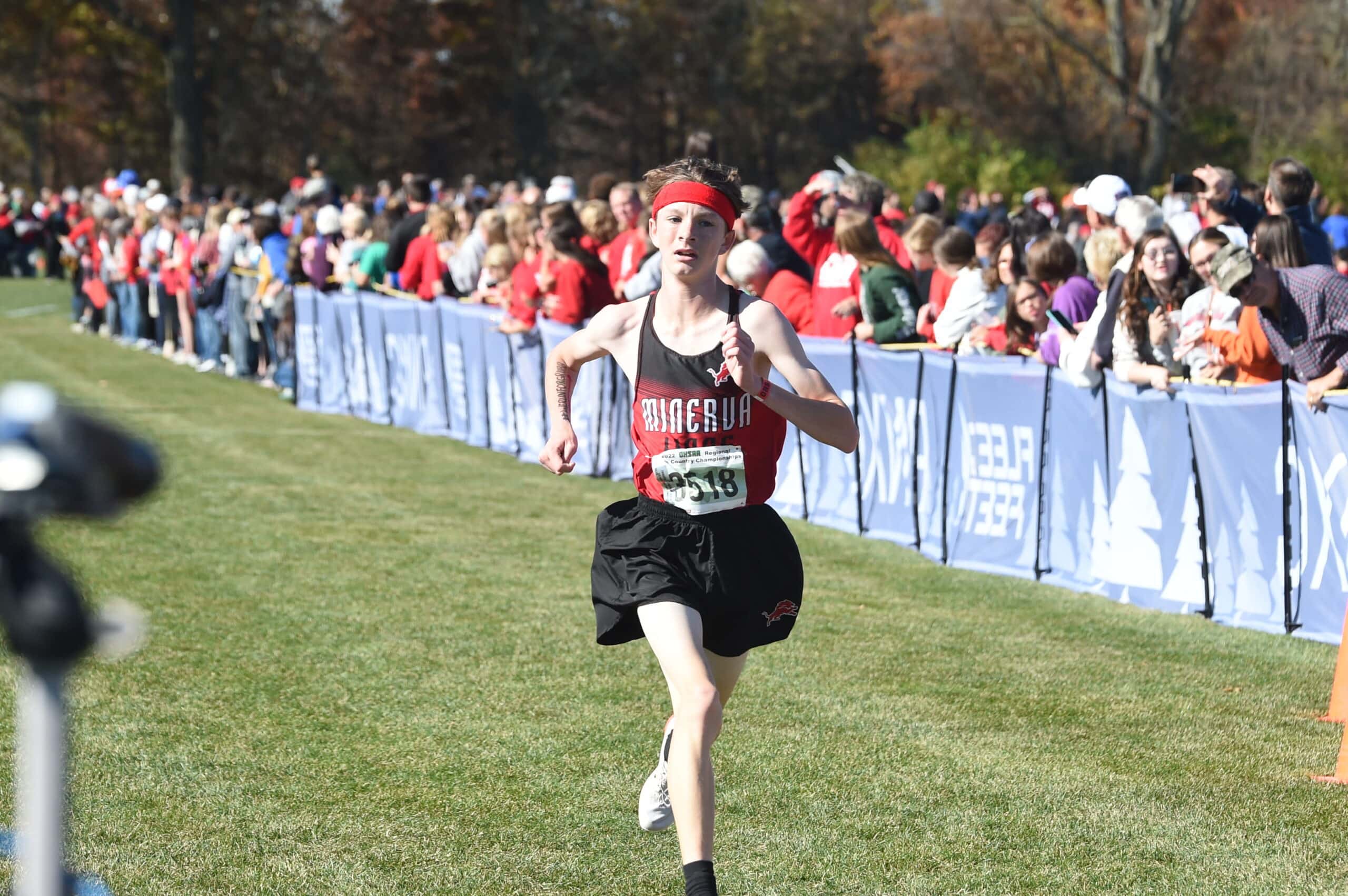 CLICK HERE TO VIEW RACE PHOTOS
"It shows that everybody cares," Minerva sophomore Graysn Rettig said. "It means a lot to everybody."
Minerva Head Coach Olivia Scott said teams showed up to the regional meet Saturday with envelopes full of money for the coaches to give to Owen's family during this challenging time.
Many runners from other schools incorporated the Minerva red into their running attire by wearing red headbands in honor of the late Minerva runner.
The Minerva boys team did run for Owen Saturday afternoon at regionals.
"Those guys went out there and battled for Owen. I'm so proud of them." Coach Scott said at the conclusion of the race.
CLICK HERE TO VIEW RACE PHOTOS
The Lions earned a berth to the OHSAA state championships after finishing sixth as a team with 197 points.
"They wanted it so bad. They did want it," Coach Frank Monk said. "We felt coming in…I think we could still do it.
The boys team was led by Rettig who finished seventh overall with a time of 16:10.75. Mason Steele placed 27th (16:44.00) and Ryan Cassidy finished 47th (17:21.26).
"I went out there and did it for Owen," Rettig said. "It means a lot to have him come with us one last time to state. It felt good."
CLICK HERE TO VIEW RACE PHOTOS
Rowan Hoffee placed 49th with a time of 17:23.51 followed by Brandon Davis with a time of 18:31.26 to finish 109th.
"We put it all out there, we know that's what Owen would want," Steele said following the Lions' state-qualifying race.
Coach Scott called the runners her heroes.
"The trauma that they experienced last week, and just being able to rally and come back out here and do that without him being there with us," she said. "Like, I don't know if when I was their age, I could have done what they have done here this week. I'm super proud of them."
Before Owen's tragic passing, the Minerva Lions had state on their mind, but understandably their minds were in another place this week.
CLICK HERE TO VIEW RACE PHOTOS
"When this week happened, it was like Olivia and I just spent a lot of time figuring out what do we have to do to get the switches turned back on for today," Coach Monk said.
The Minerva Lady Lions punched their ticket to the state tournament with a second-place regional finish with 68 points.
The Lions were led in an effort by Herra Hoffee who finished third as an individual with a time of 18:35.42.
"I was really close with Owen. It means a lot to go to state next weekend to represent him," Hoffee said. "It's just amazing. It really means a lot to know that everyone in the state cares."
Kayla Crissman placed 11th (19:42.04) and Annabelle Crissman placed 16th (19:51.44). Caitlyn Hopple finished 18th with a time of 19:59.94 followed by Hannah Ison who placed 33rd with a time of 20:28.19.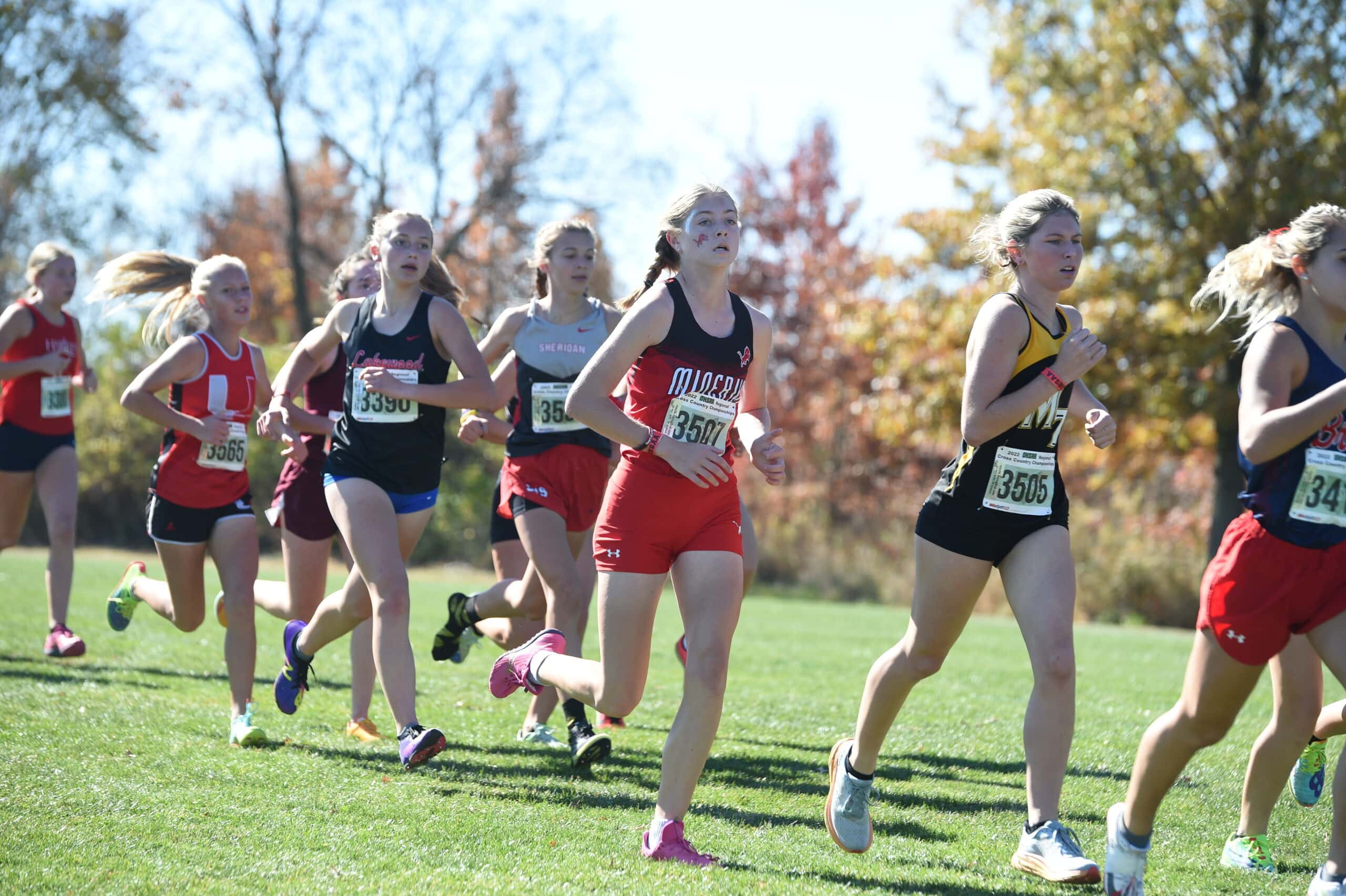 Katie Ison finished 37th (20:34.94) and Gabby Lupshu ran a time of 21:31.18 to place 68th.
CLICK HERE TO VIEW RACE PHOTOS
"Running has really helped them," Scott said after the race. "When they get to practice, it helps them take their minds off of it."
Both teams will race next Saturday (Nov. 5) at Fortess Obetz in the state championships.