Rylee Thomas scored 15 points to lead the Strasburg Tigers to their 11th consecutive victory in a 46-41 final at Garaway on Wednesday night.
The Tigers (11-1, 7-0 IVC) also received scoring contributions from Emma Gilkerson (nine points), Madi Becker (eight) and Maddy Edwards, and Amelia Spidell (six each).
For the Lady Pirates (5-7, 3-4), Marley Metzger led all scorers with 22 points, while Meghan Schwartz scored 12.
HILAND 48, LAKE 44
After a second quarter in which they only allowed four points to visiting Uniontown Lake, the Hiland Hawks staved off a late Blue Streaks fourth-quarter comeback for a Tuesday night victory in Berlin.
The Hawks (8-4, 6-1 IVC) were led by Aila Miller's 22 points and 11 rebounds, while Ashley Mullet scored 13 points.
Serenitee Johnson totaled 23 points to lead the Streaks.
Lake dropped to 4-9 for the season with the loss.
SANDY VALLEY 51, TUSCARAWAS CENTRAL CATHOLIC 35
Sandy Valley scored an IVC victory over Tuscarawas Central Catholic on Wednesday night.
Jordan Parker scored 16 points for Sandy, while Alli Neary added 11 points and 10 rebounds.
Reese Triplett led Central (8-3) with 13 points, while Maddie Ferrell added 11 points.
The Cardinals moved to 10-2 (5-2 IVC) with the victory, while the Saints dropped to 8-3 (5-2 IVC).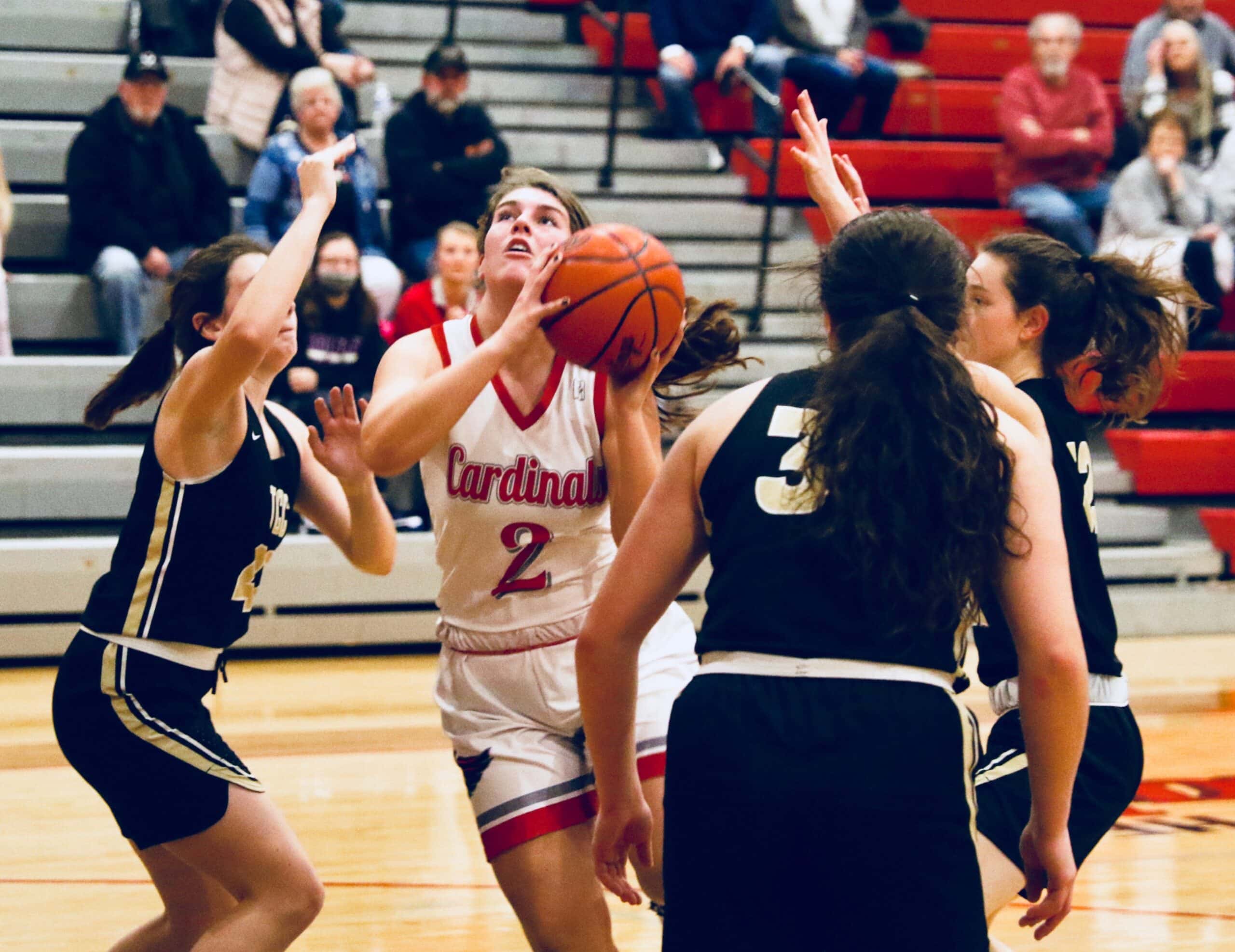 MALVERN 47, INDIAN VALLEY 41
Malvern's girls' squad won by six points over Indian Valley High School on Wednesday.
The Hornets improved to 5-2 in the IVC, and 7-6 overall.
The Lady Braves fell to 0-11 (0-6 IVC).
DOVER 48, MASSILLON WASHINGTON 41 (OT)
The Crimson Tornadoes outscored Massillon 7-0 in the extra time of a Wednesday night overtime thriller.
Morgan Kiser totaled 27 points for the visitors, while Josee Werntz, Taylor Luneborg, and Ava Zobel each scored seven points for Dover.
Telai Meally led Massillon (1-11) with eight points.
TUSCARAWAS VALLEY 57, CONOTTON VALLEY 10
Tusky Valley took care of business against the Conotton Valley Rockets on Wednesday.
The Trojans moved to an IVC South-best 6-0 and 9-2 overall, while the Rockets dropped to 0-10 (0-6 IVC).
MINERVA 46, FAIRLESS 41
Minerva won over Fairless in a girls' contest on Wednesday.
Jenna Cassidy scored 23 points, while Bella Murray added eight for the Lions.
Kam Kondrach led the Falcons with 13 points, and Gracie Lyon added 12.
RIDGEWOOD 44, NEWCOMERSTOWN 39
The Ridgewood Generalsimproved to 5-7 (2-5 IVC) with a conference win over Newcomerstown.
Kelsie Stephens scored 23 points for Ridgewood, while Kya Masloski added 10.
Ashley Lahmers led the Trojans (1-8, 1-5 IVC) with 20 points.