Malvern High School remained unbeaten with a 57-46 victory over Strasburg High School on Tuesday night in Strasburg.
The Hornets (9-0, 6-0) were led in scoring by Michael Minor, who totaled 18 points for the game.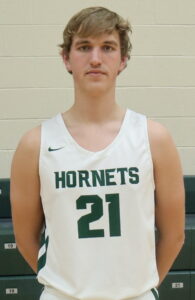 Noah Ball added 10 points to help Malvern, who took sole possession of first place in the IVC North with the victory.
Strasburg was led by Landon Potopsky's 14 points.
HILAND 65, RIDGEWOOD 58
While the Hornets won their IVC North matchup, Hiland High School bested the Ridgewood Generals in a battle of the IVC South's leaders.
The Hawks improved to a division-best 6-0 and 10-1 overall, while the Generals dropped to 8-2 (4-2).
GARAWAY 49, SANDY VALLEY 44
Alexander Roden scored 22 points to lead the Garaway Pirates past Sandy Valley High School on Tuesday night in Sugarcreek.
The Cardinals' top scorer was Kaiden Mastri (15 points).
Garaway moved to 6-2, 4-1 with the win, while Sandy fell to 4-6, 1-3.
DOVER 48, CAMBRIDGE 18
Dover High School featured a trio of double-digit scorers in a 30-point victory over Cambridge on Tuesday night.
Ayden Hall led the Crimson Tornadoes with 11 points, while Joey Farthing and T.C. Molk added 10 points apiece.
Dover improved to 8-1 with the victory.
LOUISVILLE 71, NEW PHILADELPHIA 64
The Louisville Leopards took down the New Philadelphia Quakers on Tuesday night in Louisville.
Will Aljancic and Hayden Nigro each scored a game-high 23 points to lead the Leopards, while Tyler Bolden added 11.
Kayden Schoelles led the Quakers with 23 points, while Colton Slaughter added 15 points on five 3-pointers.
New Phila fell to 6-2, while Louisville moved to 8-2.
TUSCARAWAS VALLEY 53, CLAYMONT 45
Tusky Valley sweated out an eight-point victory over Claymont High School on Tuesday.
Brody Moreland led the Mustangs (1-9, 0-6) with 11 points.
TUSCARAWAS CENTRAL CATHOLIC 43, EAST CANTON 42
Tuscarawas Central Catholic sweated out a 1-point win over East Canton on Tuesday night.
Adam Decaminada scored 15 points for the Saints (5-4, 4-2), while Kayden Crosier totaled 12.
The Hornets fell to 3-6 (2-4).
INDIAN VALLEY 58, SHENANDOAH 42
Indian Valley improved to 6-2 after a non-conference win over the Shenandoah Zeps.
Lucas Hagan had 19 points, while Isaac Klaserner added 17 for the Braves.
BUCKEYE TRAIL 49, CONOTTON VALLEY 36
The Warriors moved above .500 in conference play with a victory over Conotton Valley High School on Tuesday.
Trail moved to 5-6 overall and 4-3 in the IVC with the win, while the Rockets dropped to 4-8 (1-6).