In new developments in East Palestine, there is an order to evacuate the area as officials plan to conduct a controlled release of chemicals that are aboard the Norfolk Southern train that derailed Friday evening.
Ohio Governor Mike DeWine is calling this a "life and death" situation and is ordering those within a one-mile by two-mile radius of the train derailment to evacuate.
We've decided that that controlled release will occur today at 3:30," DeWine said Monday. "We are urging everyone in this area – actually, ordering them – to leave."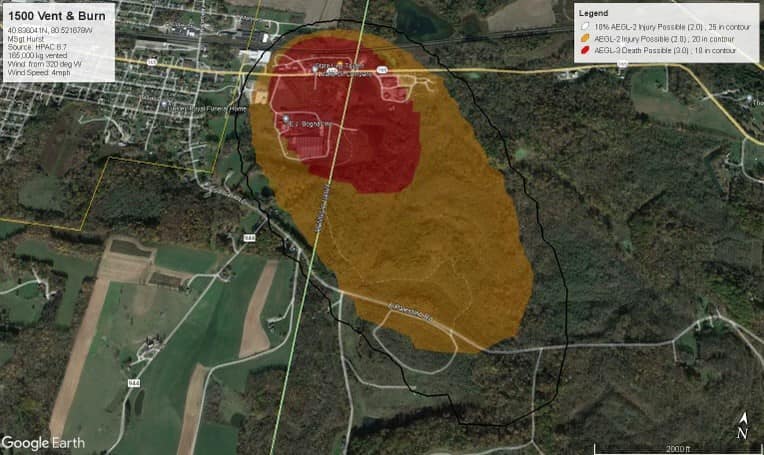 The controlled release will take place at 3:30, which will be when officials vent the chemicals from the still-burning train cars.
Highly trained officials will drill two to three-inch holes in five train cars carrying vinyl chloride to release the chemical from the train cars. Those closest to the scene are in grave danger of dying, according to Governor Mike DeWine.
Officials also noted that the scene will be very visual and a large fire will most likely ignite, but they also warn people to not try and watch it as they are concerned about the danger of death or injuries. The controlled burn will take one to three hours.
Residents in parts of Ohio and Pennsylvania are now being asked to evacuate within a one-mile by two-mile radius.
Law enforcement officials have been going door-to-door in both East Palestine and Darlington Township, PA urging residents to leave immediately.
The Columbiana County EMA issued an evacuation order Sunday night, telling residents to leave the area and if they refuse, they are subject to being arrested.
They fear the potential for a catastrophic tanker failure which could result in an explosion with shrapnel traveling up to a mile.
DeWine said they are unsure when residents will be allowed to return to their homes.
Breathing in high levels of vinyl chloride can cause dizziness, sleepiness, headaches and death. It's also been linked to an increase risk of cancer in the liver, brain, lungs and blood.