Tuscarawas Valley survived a defense-minded 36-35 final over 8th-seeded Morgan High School in Friday's Division III East Sectional Boys Basketball final in Zoarville.
The Trojans (17-7) shot just 16-of-49 (32%) from the field and 3-of-15 (20%) from the 3-point line, but still outscored Morgan 15-8 in the second period and held off the visitors in the second half for the postseason win.
The Trojans made a key block in the closing seconds on a Morgan 3-pointer and stumped the opposing offense on the following inbounds play.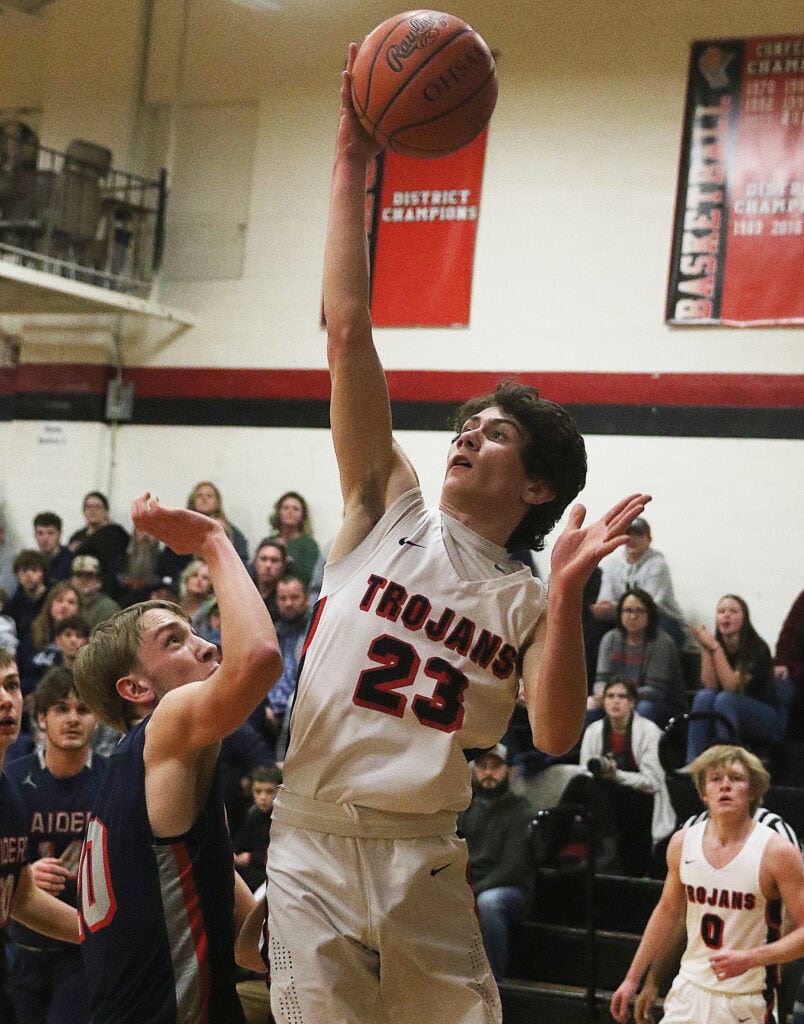 Silas Miller and Kolton Kohler led the Trojans with eight points each, while Cody Robinson and Dawson Williams followed with six and five points, respectively.
Colin James (14 points) and Carson Mummey (13 points) led Morgan, who finishes at 10-15.
No. 2 Tusky Valley will advance to next Tuesday's Division III East District semifinal against West Muskingum.
RIDGEWOOD 71, BELLAIRE 70 (OT)
The 4th-seeded Ridgewood Generals survived an overtime affair with Bellaire in Friday night's Division III East Sectional finals.
The Generals will play IVC South foe Garaway next Tuesday in the East District semifinal at 7 p.m. The game will be played at
GARAWAY 54, BUCKEYE TRAIL 50
Top-seeded Garaway eliminated No. 11 Buckeye Trail from the Division III East District tournament.
Brady Roden led the Pirates (19-4) with 17 points, followed by Alexander Roden's 15 points.
Franko Rome scored a contest-high 22 points for the Warriors, who finish the season at 11-13.
Garaway will move on to Tuesday's East District semifinal against IVC South rival Ridgewood.
HILAND 61, TUSCARAWAS CENTRAL CATHOLIC 56 (OT)
The Hiland Hawks defeated IVC counterpart Tuscarawas Central Catholic in Friday's Division III East Sectional final in Berlin.
The Hawks will play No. 5 Monroe Central on Tuesday at 7 p.m. at Cambridge High School. The Seminoles topped Caldwell, 64-57, in their Tuesday East Sectional final.
WEST MUSKINGUM 58, SANDY VALLEY 48 (OT)
West Muskingum shut out 13th-ranked Sandy Valley 10-0 in the overtime period of a Divison III East Sectional final victory on Friday night in Zanesville.
The Tornadoes earned their first Sectional championship since 2017.
Noah Ray led W.M. with 16 points, while Luke Pattison (11 points), Jack Porter (10 points), and Gage Newsom (eight points) added to the Tornado victory.
No. 5 West Muskingum will play No. 2 Tusky Valley on Tuesday at 7 p.m. at Coshocton High School.
MALVERN 63, STRASBURG 33
The Malvern Hornets beat Strasburg for the third time this season in Tuesday's Division IV East Sectional final in Malvern.
Michael Minor led the Hornets in scoring (15 points) and rebounding (six boards), while Dylan Phillips (10 points) and Drake Delong (eight points) added to the home team's victory.
Joe Fischer led the Tigers in scoring with a game-high 16 points and five rebounds for the Tigers, who end the year at 19-7.
The Hornets move to 20-4 and will play in next Tuesday's East District semifinal at 7 p.m. against Shadyside at Harrison Central High School.
SHADYSIDE 31, RIVER 29
No. 7 Shadyside pulled off a Tuesday night upset of No. 1 River in the Division IV East Sectional final in Hannibal.
The Tigers will play Malvern on Tuesday at Harrison Central.