The New Philadelphia Lady Quakers won an overtime battle over Margaretta High School, 44-42, on Saturday at the 2022 Classic in the Country Showcase in Berlin.
New Phila's Ajia Schreffler took an inbounds pass for a game-tying layup as regulation time expired, and Lasha Robinson sank a key 3-pointer with 45 seconds left in extra play to lead the Quakers to the win and an 11-2 record for the season.
New Philadelphia took the victory despite a good start by the Polar Bears, who outscored the Quakers 14-3 to lead at halftime, 24-13. N.P. would rebound with a 17-6 third scoring effort in the third quarter before duking it out in the final two periods.
Schreffler and Audrey Harr both led the Lady Quakers with 10 points, while Alyssa Miller added nine points.
Kylie Leibacher led Margaretta in scoring with 12 points.
The Quakers and Polar Bears participated in the second of nine scheduled Saturday contests at the Classic showcase in Hiland High School.
SOUTH BEND WASHINGTON 40, HILAND 25
Host Hiland dropped a 15-point decision to South Bend Washington (Indiana) on Saturday in Berlin.
Kira Reynolds and Amiyah Reynolds each scored 11 points for the Panthers, who moved to 18-2 for the season.
Aila Miller scored a team-high 11 points for the Hawks, who dropped to 10-5 for the year.
Hiland will also play in the Classic's final contest, on Monday against Sheridan High School.
MALVERN 43, EAST CANTON 39
Maddie Powers (18 points) and Alyiah Watson (13 points) commandeered the Malvern Hornets' Saturday victory in girls basketball over the East Canton Wizards.
Watson also led the team in rebounds (10) to achieve a double-double in the Hornets' victory, boosting the team's record to 9-6 (5-2 IVC North).
The Malvern defense clamped down on the Wizards' scoring in the second half, outscoring East Canton 14-5 in the third quarter, and 21-10 in the final period.
The Wizards (3-12, 3-6 North) were led by Samantha Monter's 12 points, while Tori Reichard followed with eight points in the loss.
CANTON SOUTH 42, STRASBURG 34
The Strasburg Lady Tigers suffered their first loss since mid-November in an eight-point defeat by Canton South High School on Saturday.
The Tigers saw their 14-game winning streak snapped by the Wildcats, who posted a 20-5 advantage after the first quarter en route to the victory.
The game was played at the Hoosier Gym in Knightstown, Indiana, famously seen in the 1986 film Hoosiers.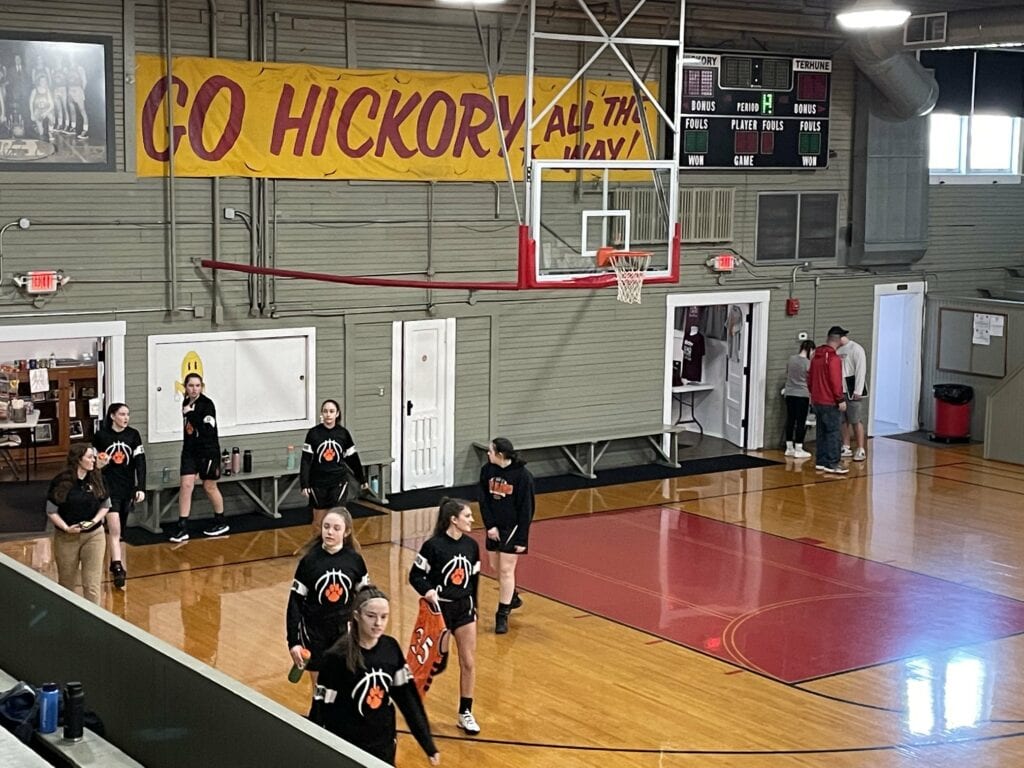 INDIAN VALLEY 41, LAKE CENTER CHRISTIAN 26
Indian Valley picked up its first win of the season in a 15-point difference over Lake Center Christian.
Madison Monte scored 15 points for the Braves, while Celeste Rummell and Macy Lancaster each added eight points.
Emma Fulk scored six points to lead Lake Center Christian.
Indian Valley's record improved to 1-13.
WARREN LOCAL 56, DOVER 31
Warren Local stumped Dover's winning streak at fives games after Saturday's final.
Abbie Smith scored 21 points and Alex Frazee posted 14 points for Warren.
Tori Jones led Dover (6-7, 1-3) with 15 points.
TUSCARAWAS VALLEY 58, CLAYMONT 22
Tusky Valley stayed unbeaten in IVC play with an easy win over Claymont.
The Trojans (12-2, 8-0 South) were led by Ashley Merrick's 18 points, while Kaleigh Norris (11 points) and Leah Bourquin (10 points).
Bailey Eddleman led the Mustangs (5-8, 2-5 South) with nine points.
GARAWAY 37, RIDGEWOOD 32
Garaway edged Ridgewood in a Saturday girls' game.
Rylee Putt led the Bucs (7-8, 4-4 IVC South) 14 points and Meghan Schwartz added nine points.
BUCKEYE TRAIL 60, NEWCOMERSTOWN 19
Buckeye Trail High School had few problems in a Saturday rout of Newcomerstown.
The Trojans dropped to 1-11 (1-6 IVC North).
CARROLLTON 50, MINERVA 31
The Carrollton Lady Warriors defeated the Minerva Lions in a Saturday afternoon girls' contest.
Hillari Baker scored 16 points for the Warriors, while Demi Leary added 10 points.
Hera Hoffee led Minerva with 13 points.
LOUISVILLE 41, TALLMADGE 35
The Louisville girls moved to 10-3 for the year with a Saturday victory over Tallmadge High School.
BOYS BASKETBALL
DOVER 61, GRANVILLE 41
Mikey Beal scored 15 points to lead Dover High School to a Spectrum Orthopedics Classic victory over Granville on Saturday.
T.C. Molk added 11 points and Joey Farthing contributed 10 points as the Crimson Tornadoes improved to 12-1.
The Blue Aces dropped to 7-5.
ORANGE 44, NEW PHILADELPHIA 33
Olentangy Orange outscored New Philadelphia 9-2 in the final quarter of what would be a Saturday home victory over the Quakers.
Carter Vandall led the visitors with 13 points as the Quakers' record fell to 9-3.
TUSCARAWAS CENTRAL CATHOLIC 64, FAIRLESS 34
Tuscarawas Central Catholic kicked off Saturday's slate of games at the Spectrum Orthopedics Clasic with a blowout win over Fairless.
Zander Sabin tallied 24 points and 10 assists for the Saints (8-7), while Jordan Cherry added 13 points.
Brody Pumneo led the Falcons (6-10) with 12 points, and Coltin Colucci added 11.
NORWAYNE 77, MALVERN 65
Isaiah Portis scored 20 points as Norwayne defeated state-ranked Malvern in the final Saturday game of the Spectrum Orthopedics Classic.
Ethan Hahn had 18 points for Norwayne, while Justin Ropp added 15 points and seven rebounds.
Michael Minor led the Hornets (10-2) with 22 points and seven rebounds, while Noah Ball added 11 points and Dylan Phillips scored nine.
JOHN GLENN 56, STRASBURG 32
The John Glenn bested Strasburg in a non-conference affair on Saturday in New Concord.
The Tigers fall to 9-5 for the season.
LOUISVILLE 65, WOODRIDGE 50
Louisville High School won its Spectrum Orthopedics Classic matchup with Woodridge High School.
Will Aljancic led the Leopards (9-3), while Hayden Nigro (15 points) and Beau Siegfried (12 points) contributed to the Louisville victory.
Esseck Bryant led Woodridge (9-4) with 13 points.
WRESTLING
JESSE CAMPBELL MEMORIAL DUALS
West Holmes went unbeaten en route to a team dual title at Saturday's Jesse Campbell Memorial Duals.
The Knights had dual wins versus Elyria Catholic, Greenon, Clear Fork, Northmor, Ontario, Delaware Hayes, Marion Pleasant, Mansfield Senior and Mentor.
Brady Smith, Mason Taylor, and Tucker Kaufman all went 10-0 for the weekend as individuals.
SWIMMING
OVAC CHAMPIONSHIPS
Dover's boys and girls won the 5A titles at the Ohio Valley Athletic Conference Swimming Championships held at Brooke High School.
Lucas Lane had a pair of individual wins for the Crimson Tornadoes boys in the 200 freestyle (1:45.85) and 500 freestyle (4:41.99) and added a pair of relay wins