IVC South champion Hiland bested their IVC North-winning counterpart Malvern, 58-35, in the final game of the Inter-Valley Conference Boys Basketball Showcase at Claymont High School.
The Hawks were led by Dylan Weaver's 30 points – the highest individual total among all Showcase players – and improved to 16-3 on the season.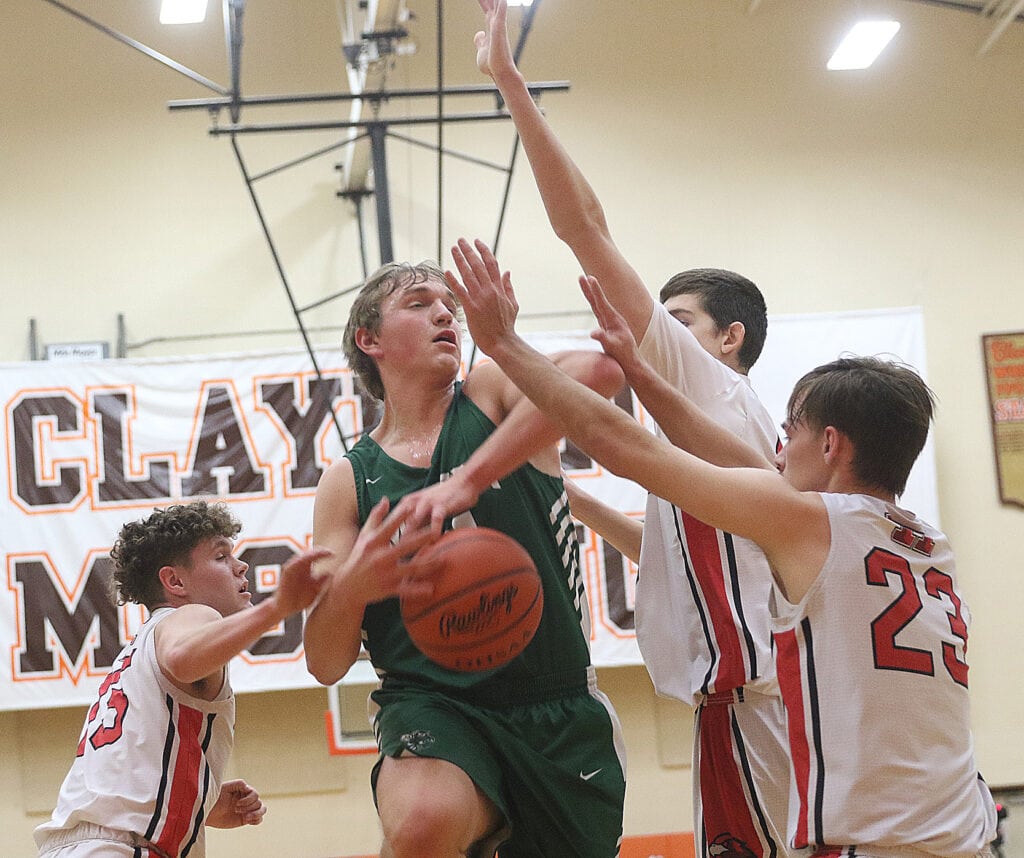 Connor Lefevre led Malvern (15-4) with 10 points and five rebounds, while KJ Thomas followed with nine points.
The Hawks' victory capped off a 7-0 Showcase performance by IVC South schools on Saturday.
DOVER 70, MORGANTOWN 54
T.C. Molk dropped a career-high 40 points in the Dover Crimson Tornadoes' Saturday win over Morgantown in the Ohio Valley Athletic Conference Class 5A Boys Basketball Championship at Harrison Central High School.
Ayden Hall followed Molk in scoring with 13 points, while Mikey Beal and Joey Farthing each added six points.
The Tornadoes moved to 19-1 and extended their winning streak to 16 games.
Morgantown's (13-4) Abe Poland scored a team-best 16 points, and Sha-ron Young added 13 points.
NEW PHILADELPHIA 60, ASHLAND 46
The New Philadelphia Quakers won an East Central Ohio League matchup at Ashland on Saturday.
Carter Vandall led the Quakers (15-5) with 22 points, while Colton Slaughter added 17 points and Michael Vickers dropped 10 points for the victors.
Luke Denbow led Ashland (13-7) with 24 points.
GARAWAY 49, STRASBURG 43
The Garaway Pirates rallied from a four-point deficit to begin the final quarter to beat the Strasburg Tigers at Saturday's Showcase.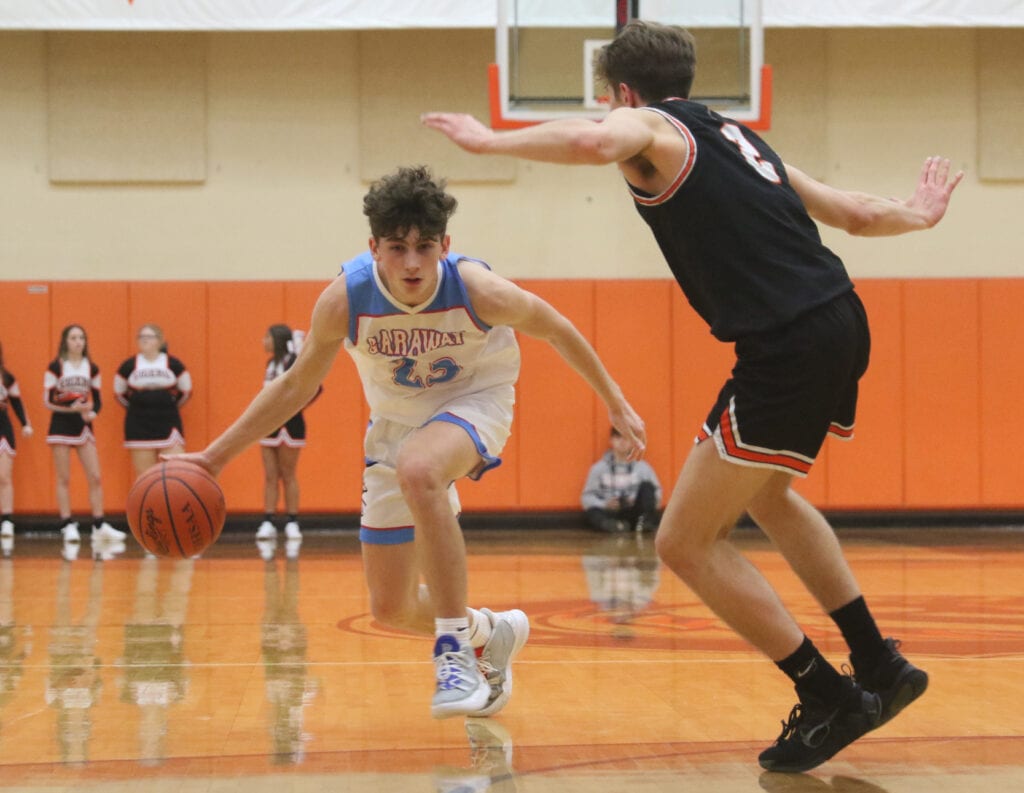 Alexander Roden scored 12 points for the Pirates (15-4), while Logan Yoder added nine points.
Landon Potopsky led Strasburg (13-8) with 15 points.
TUSCARAWAS VALLEY 56, TUSCARAWAS CENTRAL CATHOLIC 47
Tusky Valley improved to 15-6 with an IVC Showcase win over Tuscarawas Central Catholic.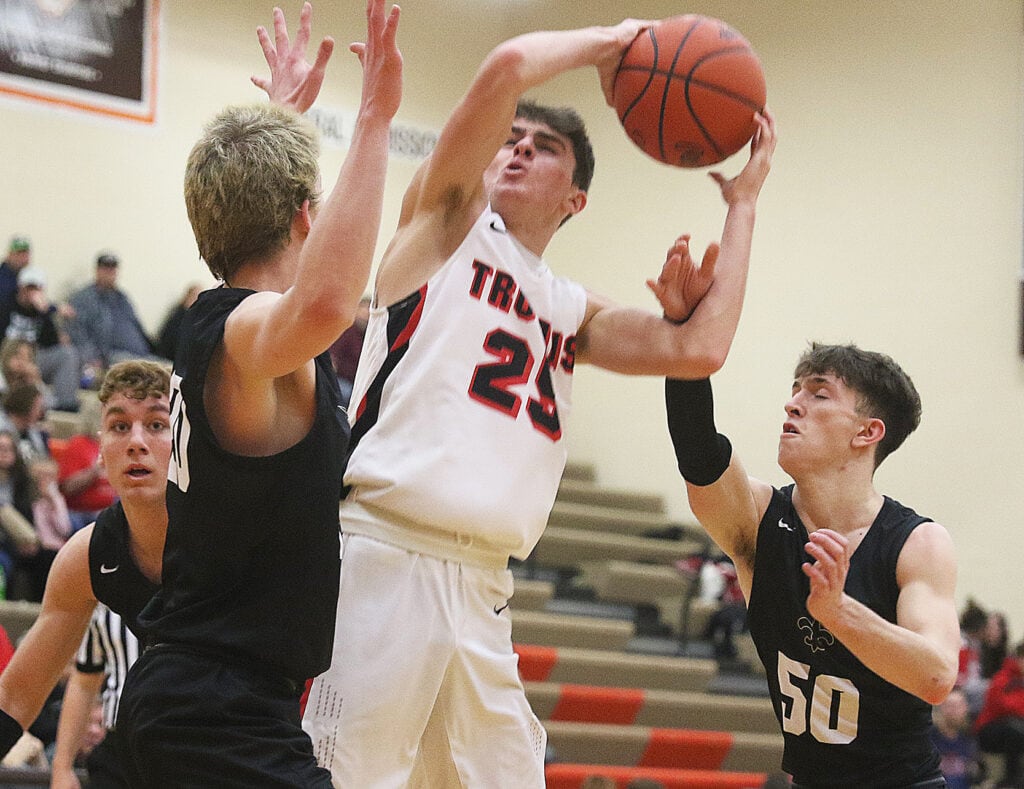 Logan Stotzer scored 16 points to lead the Trojans, while Connar Newsome added 14 points and Silas Miller totaled 13 points.
Jordan Cherry led the Saints (10-11) with 15 points, while Zander Sabin added 11 points.
RIDGEWOOD 65, EAST CANTON 51
Ridgewood's Dylan Patterson crossed the 1000-point mark in the Generals' IVC Showcase win over East Canton High School.
Patterson finished the contest with a team-best 22 points, while Kauelen Smith (12 points) and Kadin Bradford (10 points) added to Ridgewood's victory.
Luke Riley led the Hornets (5-14) with a game-high 24 points.
The Generals improved to 13-7 for the season.
INDIAN VALLEY 64, BUCKEYE TRAIL 43
Lucas Hagan scored 27 points to lead Indian Valley's IVC Showcase dub over Buckeye Trail.
Tyson Pryor added 15 points for the Braves, who improved to 15-5 with the victory.
Franko Rome led the Warriors (7-13) with 24 points.
SANDY VALLEY 55, CONOTTON VALLEY 43
The Sandy Valley Cardinals moved to 9-13 with an IVC Showcase win over the Conotton Valley Rockets.
Kaiden Mastri scored 19 points to lead the Cardinals, while Nick Petro added 13 points. Dantae Faiello also added 10 points for the Birds.
Conotton fell to 7-14 with the loss.
CLAYMONT 60, NEWCOMERSTOWN 26
IVC Showcase host Claymont kicked off Saturday with a blowout win over Newcomerstown.
Nate Barnabi led the Mustangs (4-16) with 16 points, while Connor Lynch and Brody Moreland each added nine points.
The Trojans dropped to 2-18.
GIRLS BASKETBALL
SECTIONAL TOURNAMENT
FORT FRYE 42, RIDGEWOOD 28
3rd-ranked Fort Frye topped #14 Ridgewood in the Division III sectional semifinals on Saturday.
Emmie Duskey scored 13 points to lead the Cadets, while Mackenzie Dalton added 10 points.
Mya Masloski led the Generals with 10 points, and Kelsie Stephens added nine points.
REGULAR SEASON
STRASBURG 42, INDIAN CREEK 40
The Strasburg Tigers finished the regular season at 19-3 with a nailbiter Saturday victory over Indian Creek.
Riley Thomas scored 11 points, while Madi Becker, Paige Garren, and Maggie Edwards added eight points apiece.
Tori Robertson led Indian Creek with 13 points, followed by Abby Starkey's 11 points.
Strasburg will host Toronto in the opening round of the upcoming sectional tournament on Wednesday, Feb. 16.
FAIRLESS 54, GARAWAY 38
Fairless recorded a non-conference home victory over the Garaway Pirates on Saturday.
Grace Lyon scored 22 points for the Lady Falcons, while Gracie Ashton added 12 points and Kam Kondrach totaled 11 points.
Marley Metzger (14 points) and Rylee Putt (13 points) led the Pirates in scoring.
TUSCARAWAS CENTRAL CATHOLIC 36, STEUBENVILLE CATHOLIC CENTRAL 27
Tuscarawas Central Catholic's defense allowed only nine second-half points in the Saints' Saturday victory over OVAC 2A champion Steubenville Catholic Central.
Saints juniors Maddie Ferrell and Reese Triplett scored 14 and 13 points, respectively, while Katie Zatta scored a game-high 15 points for Steubenville Catholic.
CARROLLTON 59, MEADOWBROOK 48
Hillari Baker scored 20 points to lead Carrollton's Saturday win over the Meadowbrook Colts.
Alicia Lebbano added nine points for the Lady Warriors (12-10), while Lauren Marmo and Sophia Glass each added eight points.
Karly Launder led Meadowbrook (8-12) with 15 points, while Kenli Norman added 14 for the Lady Colts.