Hiland High School's boys' golf team claimed the Inter-Valley Conference Postseason Tournament on Thursday at Wilkshire Golf Course.
Carter Mishler fired a 69 to earn tournament medalist honors, while Brookston Hummel (74), Kenny Weaver (75), and Nathan Kline (83) added to the Hawks' (301) victory.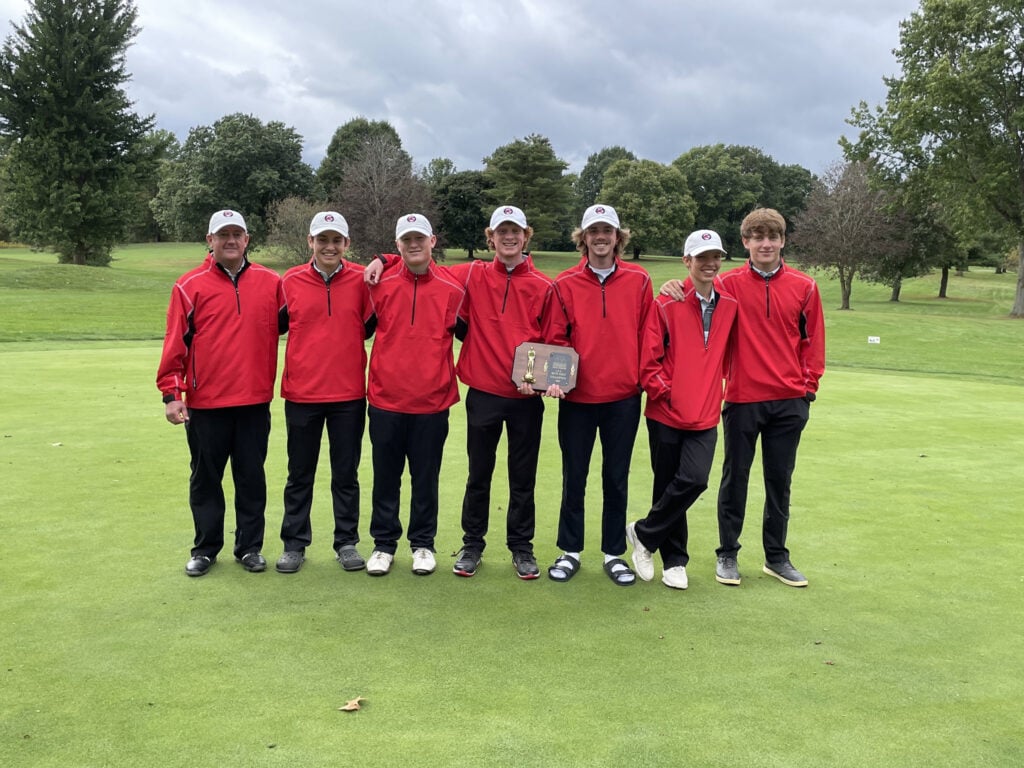 Garaway's boys finished as tournament runners-up at 320, with Charles Beachy leading the Pirates at 74. Trace Gibson added a 76, while Emmet Royer shot an 83, and Carter Miller had an 87.
Sandy Valley (348) finished in third place, led by Connor Ritter's 72. John Wood (84), Seth McCaulley (93), and Lucas Ellington (99) also qualified for the Cardinals.
Indian Valley (350), Ridgewood (361), Malvern (368), Tuscarawas Central Catholic (369), Strasburg (370), Conotton Valley (380), Claymont (383), East Canton (417), and Tuscarawas Valley (457) rounded out the remainder of the tournament standings.
GIRLS GOLF
TRI-COUNTY POSTSEASON TOURNAMENT
Marlington High School's girls' golf team (329) captured the Tri-County postseason title at Zoar.
The Dukes were led by a 2-under 70 performance by Zoe Mort, who carded the tournament's low score.
Louisville (333) finished in second place, while Garaway (336) took third. Sammi Miller led the Pirates with a 74.
In Dover's 7th-place finish with 386, Riley Schie led the Crimson Tornadoes with an 88, while Ava Adams added a 91.
New Philadelphia (11th, 411) was led by Sydney Devore, who earned Player of the Year honors after her 75-shot performance.
EASTERN BUCKEYE CONFERENCE TOURNAMENT
Along with their Tri-County victory, Marlington also took the Eastern Buckeye Conference tournament tile on Thursday.
Carrollton (358) finished second among EBC schools, along with West Branch (third place), Canton South (fourth), Alliance (fifth), and Minerva (sixth).
VOLLEYBALL
TUSCARAWAS VALLEY 25-25-25, INDIAN VALLEY 20-17-13
Tuscarawas Valley swept Indian Valley in three sets in a Thursday match.
The Braves fell to 5-9 (1-6 IVC).
Cari Anderson led I.V. with 11 assists, 13 digs, two kills, and two points.
MARLINGTON 25-26-25, CARROLLTON 4-24-7
Carrollton gave Marlington a scare in the second set of their Thursday match, but the Dukes still pulled off an otherwise easy three-set victory.
The Warriors fell to 3-12 (2-4 EBC) with the loss.
NEW PHILADELPHIA 4, WHEELING PARK 1
New Philadelphia bested Wheeling Park in a four-set volleyball match on Thursday at Quaker Gymnasium.