This story only contains results from Sunday's consolation matches. The Sunday championship matches are scheduled to begin at 5:15 Sunday evening.
Many area wrestlers ended their season Sunday with All-Ohio honors, which means they finished within the top eight in the state.
CARROLLTON
Two Carrollton wrestlers, both juniors, earned podium spot and All-Ohio honors Sunday.
Carrollton's Josh Carman earned his third All-Ohio honor with a fifth-place finish.
Carman lost his first consolation match Sunday after being narrowly defeated by Sheridan's Coltyn Reedy 3-1. Carman rebounded with a 7-2 decision in the fifth-place match over Wilmington's Thane McCoy.
As a freshman, Carman shocked everyone with an exciting run at state, placing fourth. Now, a podium finish for the Carrollton junior is part of the plan each tournament.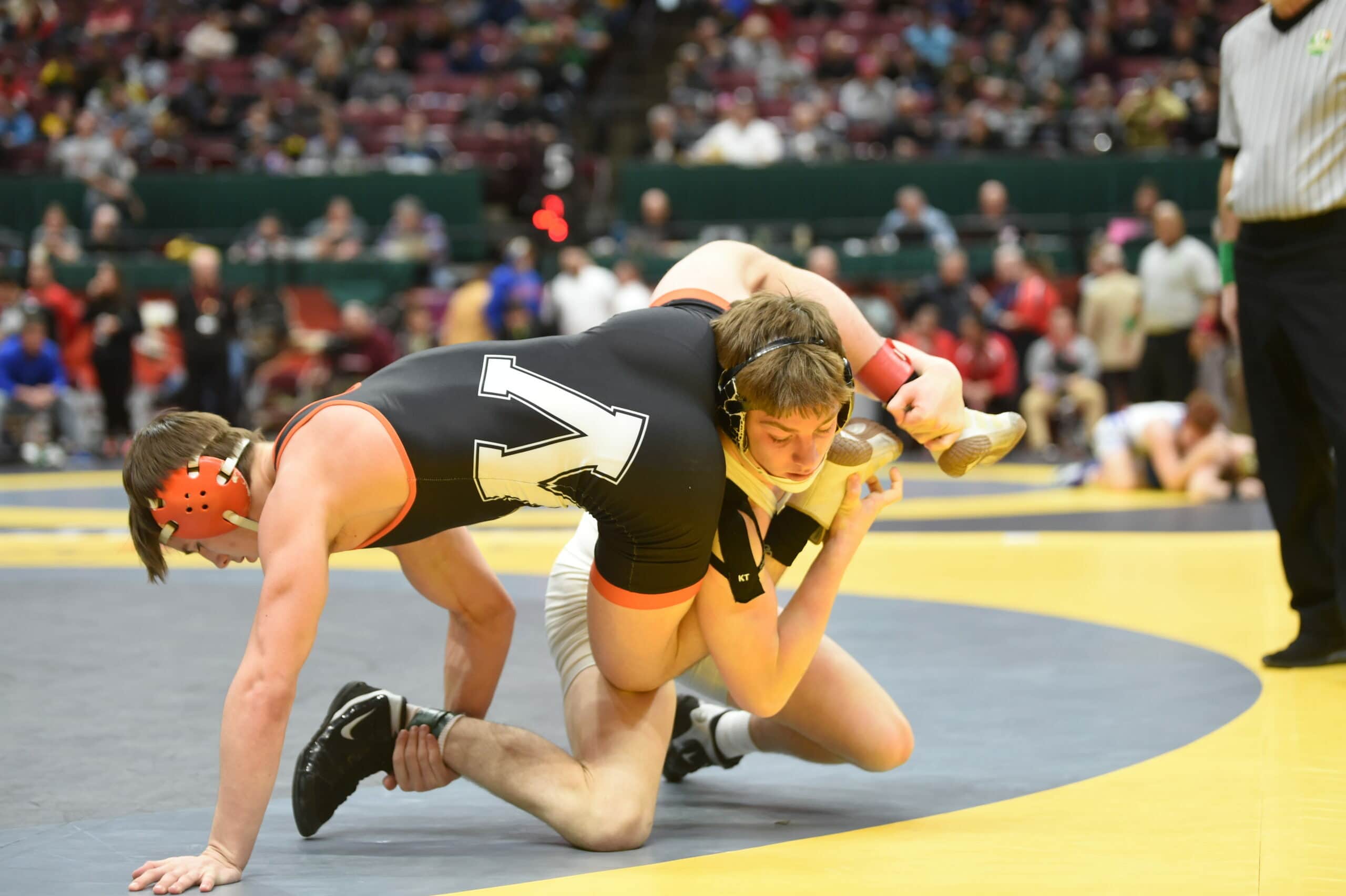 Carman lost both the placing matches his freshman and sophomore season, placing fourth and fifth, respectively. This season was the first placing match he won, but say's he's coming for it all next season.
"I'm coming back for more," he said. "Get on the top when the gold. It's a big goal of mine to be a state champ. Bring it back to Carrollton."
Carman was :20 seconds away from punching his ticket to the state finals match, but lost a tough one in the semifinal to drop him down to the consolation bracket.
"It was a tough one. But it's just it's more of a lesson than a loss," he said. "You know, it just reminds me how close I am and what I gotta do."
Landon Jenkins (106 lbs.) earned his spot on the podium with a sixth-place finish – the first All-Ohio finish of his career.
"It was really like my biggest goal this year," Jenkins said after his final match. "I felt like I was right there last year. I felt like I just needed to put some more work in and get after it a little more and I'm guessing it paid off."
The lightweight lost his consolation semifinal match Sunday morning to Buckeye's Blake Bartos by a 2-0 decision. The loss put Jenkins in the fifth-place match.
He lost the next match 2-0 to Ontario's Aiden Ohl.
Jenkins said he has goals for next season, hoping to come in a little heavier and finish in the top three.
"I think I'm gonna be a little bigger. I'm gonna try to grow over summer. I'm thinking on 120," he said. "But my goal next year; place top three."
LOUISVILLE
Louisville junior Kolten Barker won his seventh-place match with a 7-2 decision over Indian Valley's Leroy Steagall to finish seventh at 126 lbs.
MINERVA
After placing sixth in the state last season, Minerva senior Kaiden Haines finished third with a 9-3 decision win over Wauseon's Austin Kovar.
Haines was very emotional after wrestling his last match in a Minerva singlet. He said his coaches and teammates mean more to him than finishing with All-Ohio honors.
"There was a time I told my coaches and my friends on the wrestling team that they matter so much more to me," Haines said. "I'm going to miss it. That's really the only thing I can think of right now. I don't really care what I do."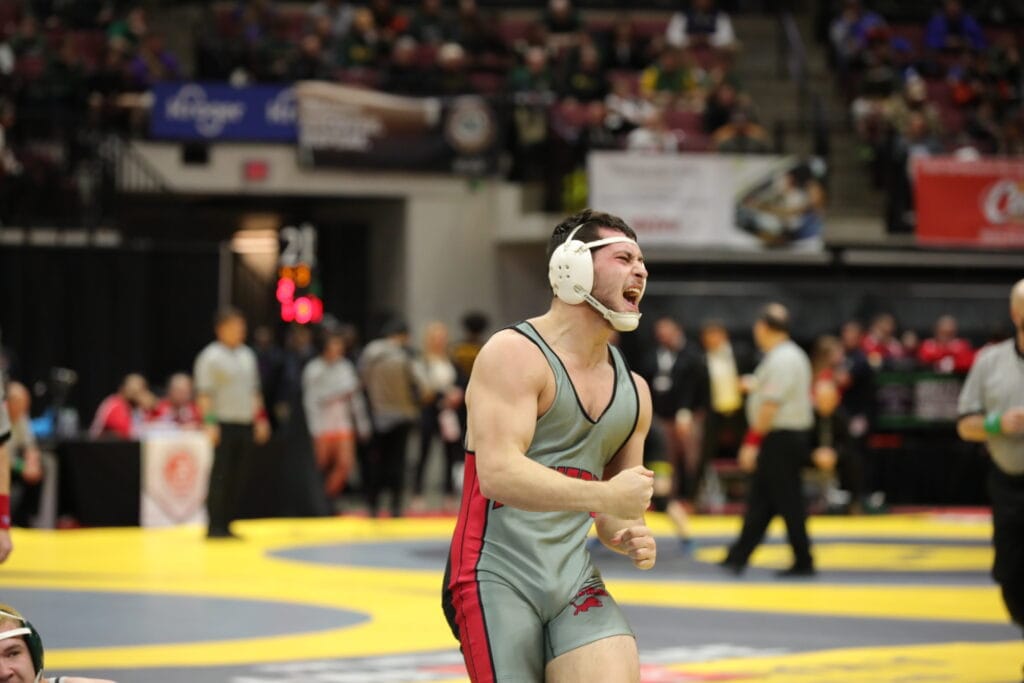 Minerva Coach Chad Hilliard said Haines has been coachable and finished the season the right way through some ups and downs.
"We've had some ups and downs, He's battled some injury. He's had to change a lot of things about his lifestyle. He's had to really stay focused to get back to where he was at," Coach Hilliard said. "Kaiden had plans to win a state title this year, and battled through injuries. He just didn't know if it was gonna be possible. But he was so coachable. All along the way, it meant a lot to him and he did everything right that's why he's so emotional right now because he finished the right way. He finished season the right way."
Minerva's Hunter Dietrich finished the tournament in eighth place.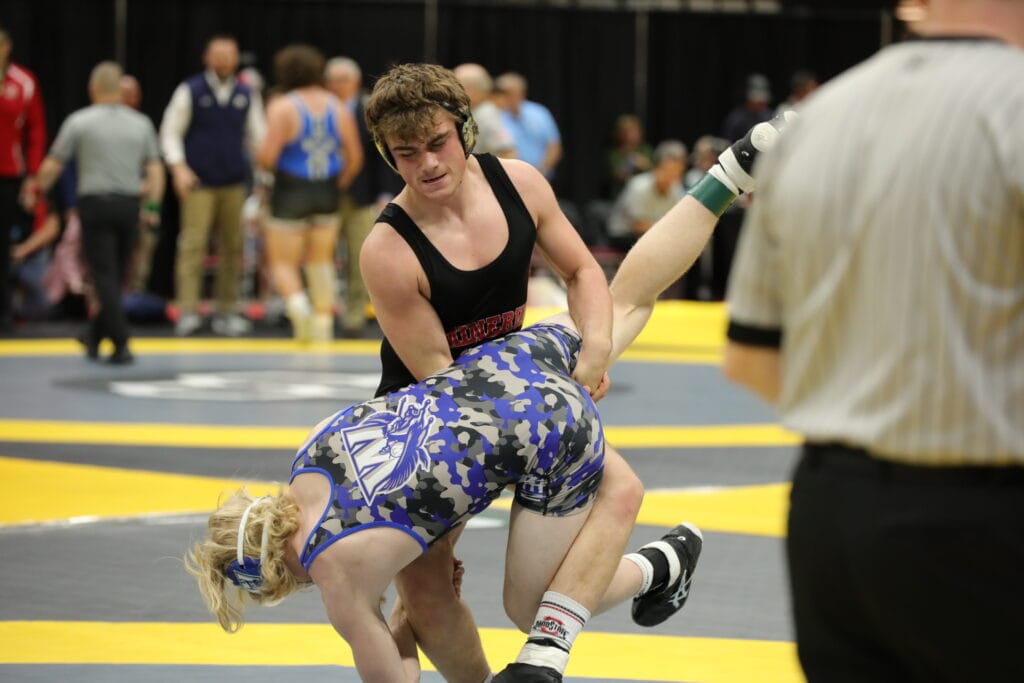 The 175 lb. wrestler lost his placement match to Warren's Aden Strahler by a score of 4-0.
MINERVA GIRLS
Minerva's Jada Shafer lost her fifth-place match to Tippacanoe's Emma Hanrahan by being pinned in 2:38. Shafer finished the tournament with All-Ohio honors and sixth on the podium.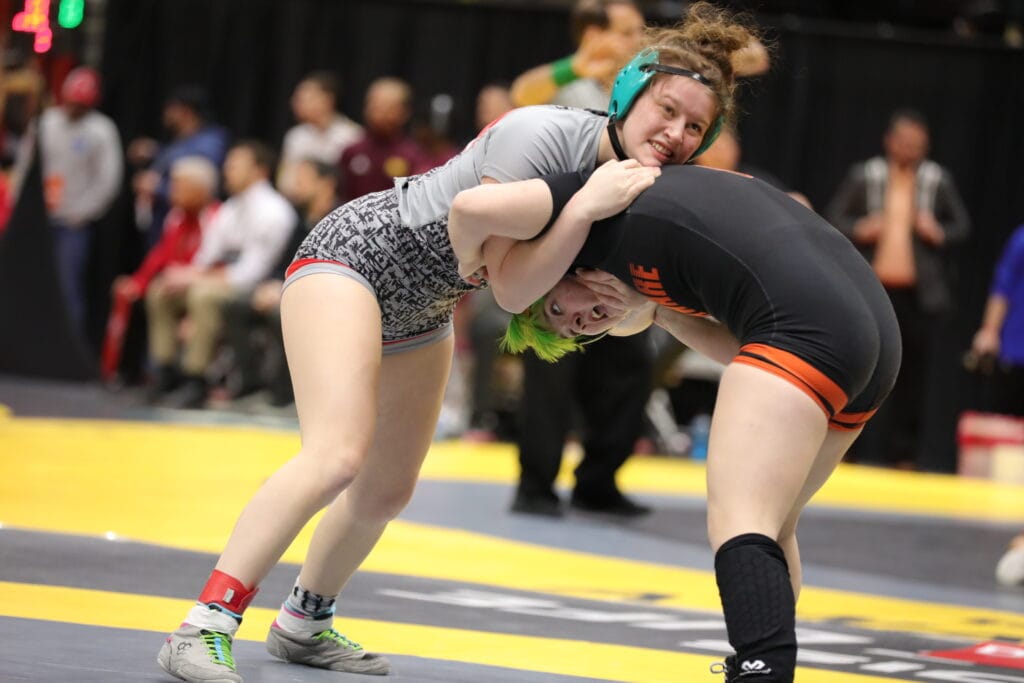 Minerva senior Alaina Jackson will wrestle tonight for a chance to win her fourth state championship at 235 lbs.
MALVERN
Malvern sophomore Tyson Clear (157 lbs.) became the school's first All-Ohio wrestler since Ryan Lane in 1994.
The Malvern Hornets finished the tournament in fourth, losing the third-place match to Legacy Christian senior Ethan Cooper by first-period pin.
It's been a lot of fun. I really like wrestling for Malvern," Clear said after his run at the state tournament came to an end. "it's been a long year and I'm really proud of our how I wrestled here."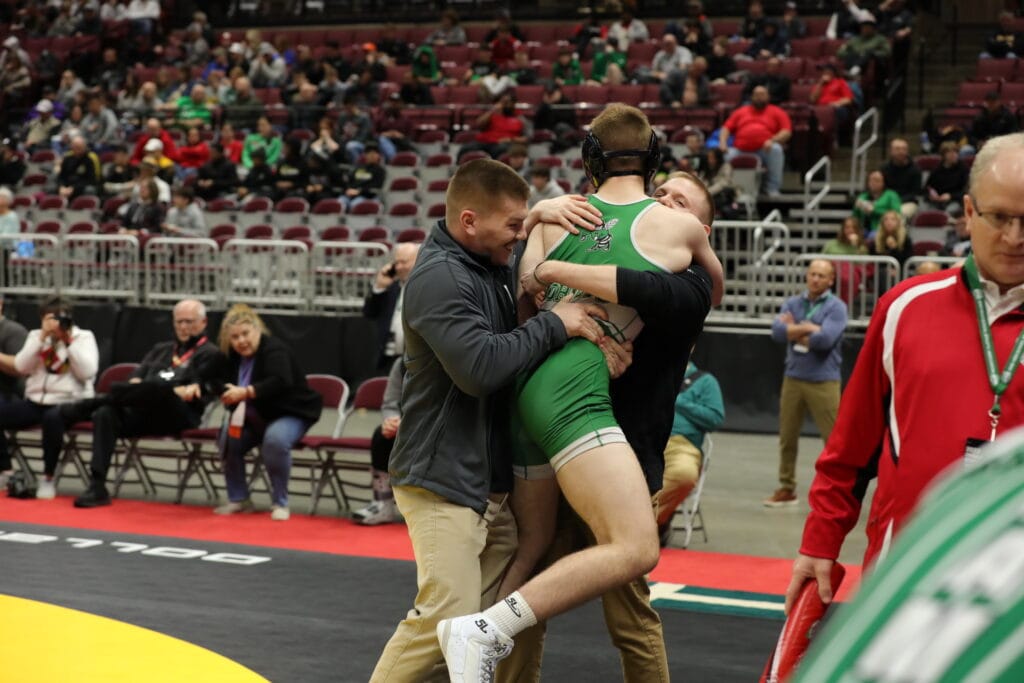 Malvern Coach Robbie Wilson said the tournament has been fun to watch Clear earn a spot on the podium.
"It's been a lot of fun through the whole process. Coming in the first day winning his first match, and then even when he fell out of the consolation bracket," Coach Wilson said.
Coach Wilson said he's happy of where Clear finished, but said they'll be putting in work during the off season.
"One thing we're gonna try to address as a little get a little stronger," Coach Wilson noted. "We're going to try to address that and just work on our overall quickness. I think he's got the wrestling thing down pretty well so far. We've got to close the gap in a couple of areas. The bar is pretty high so I think sky's the limit."
UNITED GIRLS
United's Dakota McCracken finished third in the state at 235 lbs., pinning her opponent in :14.
McCracken lost her first match of the tournament Friday, but battled back by winning her next five matches by pin. The United wrestler finishes the tournament as an All-Ohio wrestler.
United Local's Auston Brown placed fourth in the state after Josie Davis of Sidney pinned her in :34.
CLAYMONT
Claymont's Wyatt Shaw finished the tournament fourth at 285 lbs., losing his match by major decision (10-0) to West Holmes' Elisha Baldridge.
HARRISON CENTRAL
Harrison Central's Landen Thomas finished the tournament fifth, winning his fifth-place match by pin over Newark Catholic's Griffin Halenar in 3:49.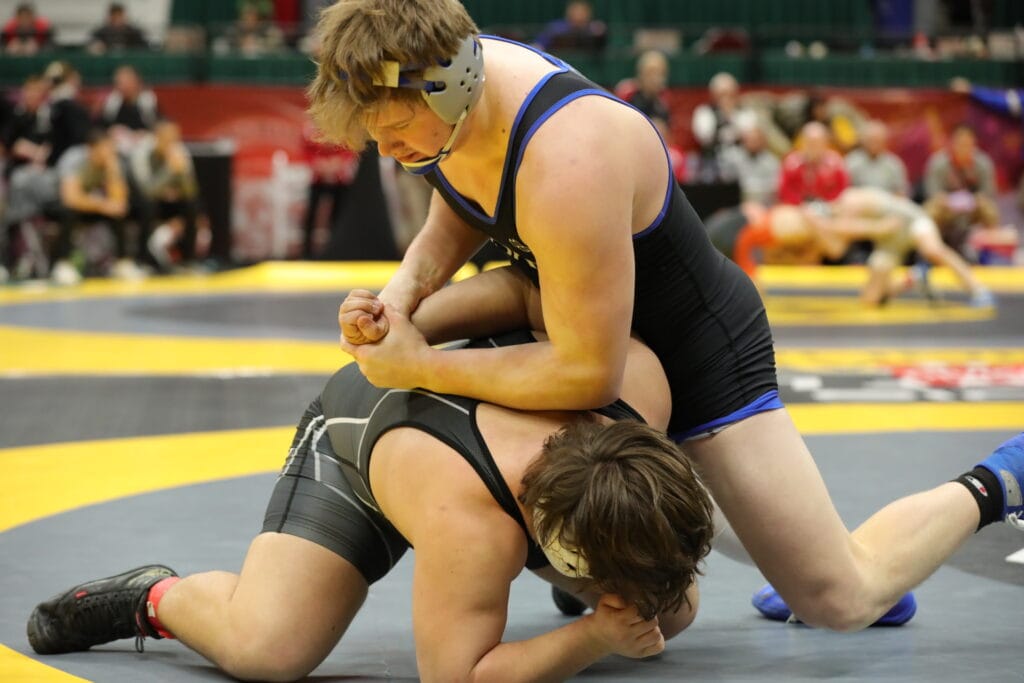 Lucas Thomas will wrestle Sunday night for a state title at 215 lbs.
ALLIANCE
Alliance's Aidan Mozden (215 lbs.) finished the tournament in third, winning the ultimate tie breaker over Mansfield Senior's Mekhi Bradley 2-1.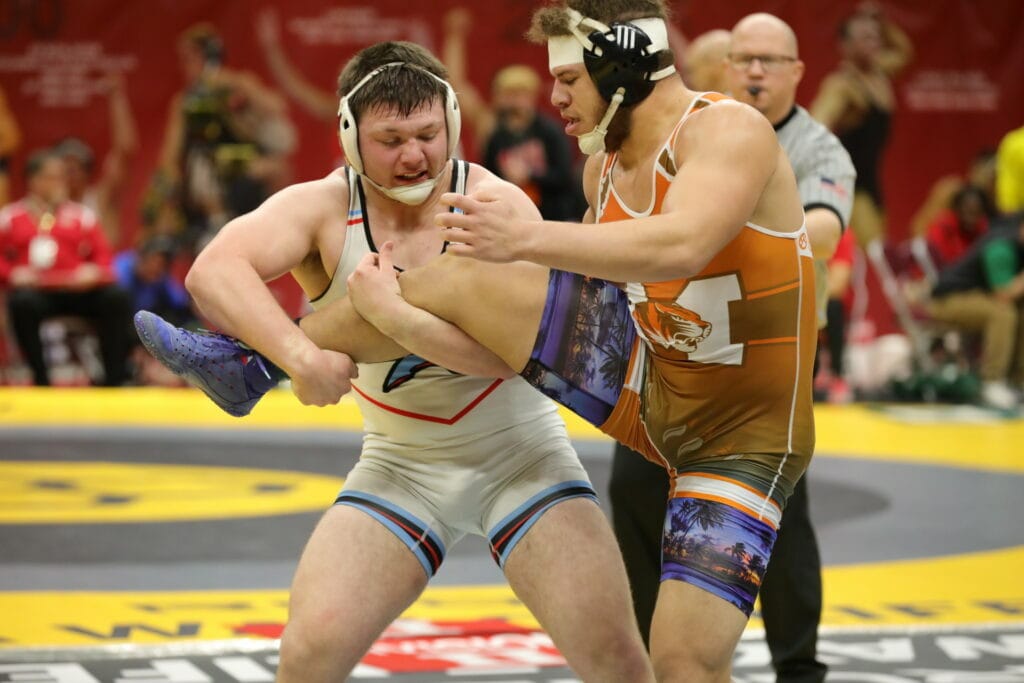 ALLIANCE GIRLS
Alliance girls finished the tournament with two All-Ohioans.
Both Abigail Mozden and Jayda Patrick placed eighth in the tournament.
Mozden lost her seventh-place match to Warren's Nevaeh Rockhold by pin.
Patrick lost her match to Columbia's Cailyn Demagall.