After a 10-10 tie to end the first quarter, Garaway outscored Sandy Valley 17-5 in the second period to eventually win on Tuesday night at Garaway High School.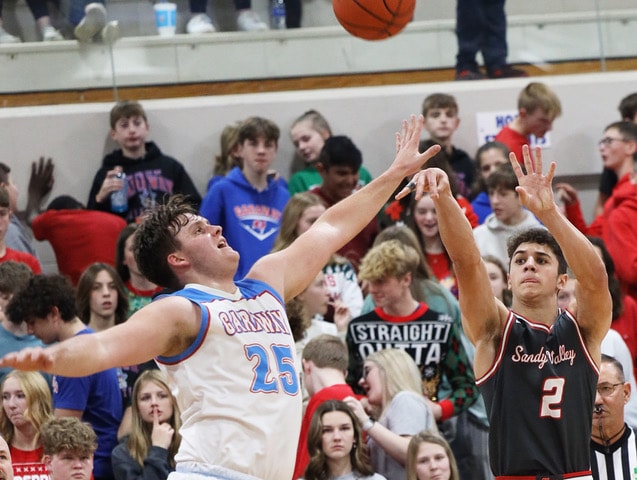 With the win, the Pirates moved to 6-0 overall and 3-0 in IVC South action.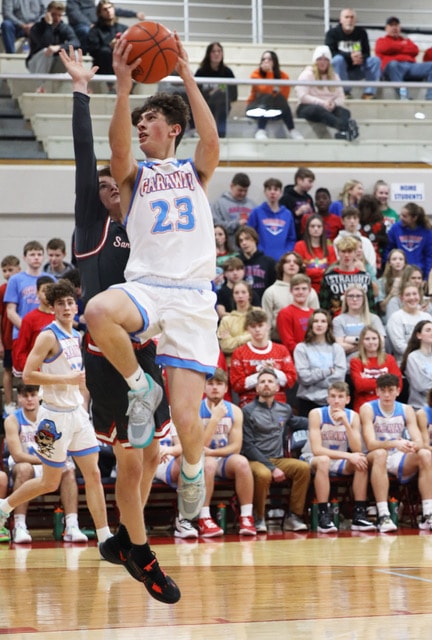 Brady Roden was Garaway's lone double-digit scorer with 16 points, while Nick Petro led the Cardinals (7-2, 4-1 IVC South) with 17 points.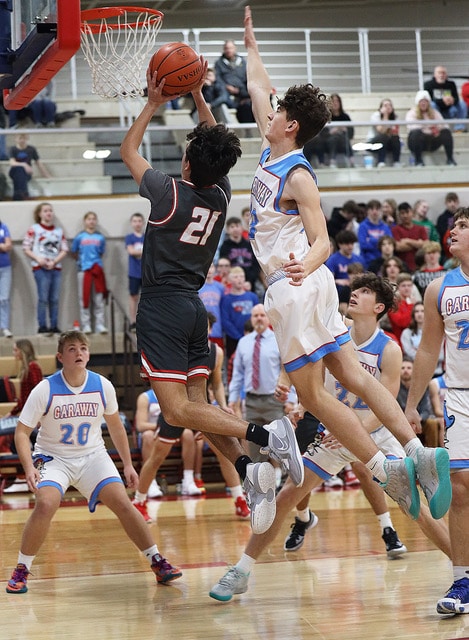 CLAYMONT 41, MINERVA 40
The Claymont Mustangs won a tight game at Minerva High School on Tuesday night.
Down 33-24 entering the final quarter, the Mustangs (3-4) outscored the Lions 18-8 in the successful comeback effort.
Graydon Mooneyham led Claymont with 14 points, while Brody Moreland scored 10 points.
Garrett Gonzalez and Rowen Hoffee each scored 11 points for Minerva, while Brandon Davis added eight points.
TUSCARAWAS VALLEY 40, INDIAN VALLEY 39
Tuesday night's matchup of the 'Valleys' ended in a 1-point decision to Tuscarawas Valley over visiting Indian Valley.
In a game in which all four quarters were decided by one point each, John Leffler (11 points) and Silas Miller (10 points) led the Trojans to boost their record to 4-3 overall and 2-2 in the IVC South.
The Braves (4-3, 2-2 IVC South) were led by a game-high 16 points from Tyson Pryor. Reese Coulson added 13 points and seven rebounds for Indian Valley.
MANSFIELD SENIOR 40, NEW PHILADELPHIA 29
Mansfield Senior outscored New Philadelphia 14-6 in the fourth quarter of a Tygers victory on Tuesday at Mansfield.
Karion Lindsay and Elias Owens each scored 11 points, while sophomore Kyevi Roane pitched in six of his eight points in the final quarter.
The Quakers lost despite a solid performance from Colton Slaughter, who sank five 3-pointers en route to a 20-point performance.
MALVERN 65, EAST CANTON 43
Mitch Minor scored a game-high 21 points in the Malvern Hornets' win over the East Canton Hornets on Tuesday night.
Minor sank five 3-pointers and was followed in scoring by J'Allen Barrino, who totaled 20 points for the Hornets (7-0, 4-0 IVC North).
For East Canton (3-4, 2-3 IVC North), Caleb Shilling led the way with 16 points. Jaedyn McLeod added 12 points, while Olly Schrader had 11 points.
TUSCARAWAS CENTRAL CATHOLIC 55, CONOTTON VALLEY 49
Jordan Cherry scored 19 points to lead Tuscarawas Central Catholic to a Tuesday night victory against visiting Conotton Valley.
Kayden Crosier scored 17 points for the Saints (2-3, 2-1 IVC North), and Coda Schumacher added 16 points.
The Rockets fall to 2-4 overall and 1-3 IVC North with the loss.
HILAND 55, RIDGEWOOD 25
The Hiland Hawks boosted their record to 4-4 for the season after a home win over Ridgewood on Tuesday.
The Hawks (2-2 in IVC South) jumped out to a 17-3 first-quarter lead, along with a 32-8 advantage at halftime.
Sammy Detweiler, Luke Mast, and Nick Wigton each scored nine points to top the individual scorers for Hiland, while Carson Habeger added eight points.
With the loss, the Generals fell to 1-6 overall and 0-4 in IVC play.