Tyler Stevenson led the way with 19 points as the Dover Crimson Tornadoes beat visiting Wooster, 47-42, on Tuesday night.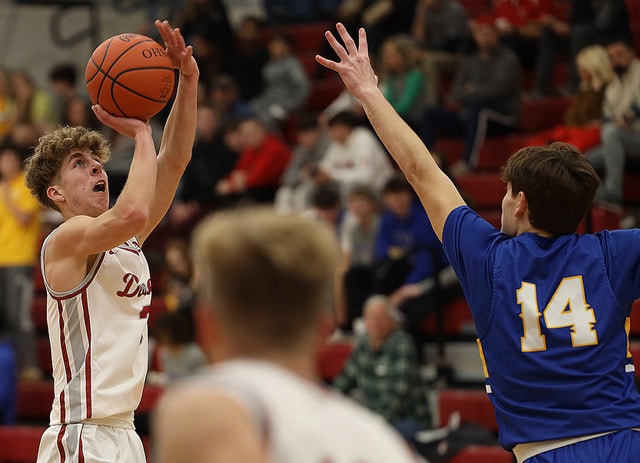 The Tornadoes also received eight points apiece from Ben Hamm (along with eight assists) and Carter Grove, who nailed a late 3-pointer to help seal the Dover victory.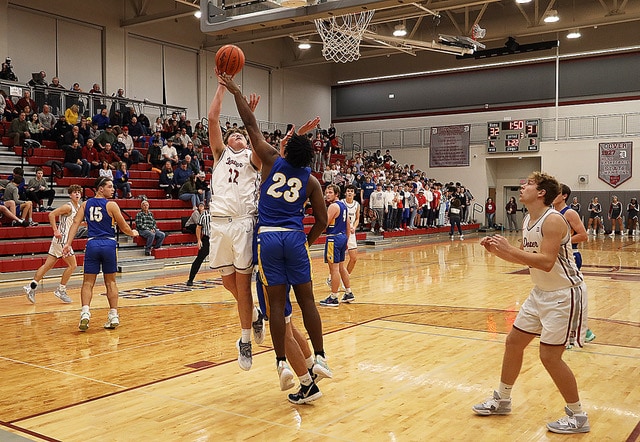 The Tornadoes boosted their record to 2-1 with the victory.
GARAWAY 59, HILAND 42
Garaway earned its first IVC South win of the year over the Hiland Hawks in Berlin.
Alex Roden led the Pirates (2-0, 1-0) with 18 points, being the only Garaway player with a double-digit points total. Jarrett Wallick scored nine points for the Bucs, while Jackson Reifenschneider and Drew Mullet each totaled seven points.
The Hawks (2-1, 0-1) spread their top-scoring performances between Sammy Detweiler (13 points) and Carson Hebeger (10 points).
SANDY VALLEY 50, INDIAN VALLEY 49
Sandy Valley edged Indian Valley in an IVC South showdown on Tuesday night.
The Cardinals (2-1, 1-0) won despite shooting just 33% from the field and 21% from the 3-point line. Sandy was led by a 22-point performance from Dantae Faiello, while Nick Petro added 10 points and five rebounds for the Redbirds.
Brayden Troyer was the leading scorer for the Braves (2-1, 0-1) with nine points, while Tanyon McComb and Tyson Pryor each added eight points in the loss.
TUSCARAWAS VALLEY 46, CLAYMONT 43
Tuscarawas Valley improved to 3-1 after edging Claymont in an IVC South matchup at Tusky Valley High School.
The Trojans 1-0 IVC South) were led by Silas Miller's 16 points and John Lefler's 13 points.
Jordan Connor led the Mustangs (1-2, 0-1) with 15 points, while Nate Barnabi scored 10 points.
MALVERN 69, BUCKEYE TRAIL 48
Mitch Minor drilled six 3-point shots to lead Malvern's offense to an IVC North win over Buckeye Trail on Tuesday night in Malvern.
Minor led his team with 20 points for the contest, while J'Allen Barrino added 18 points. Jared Witherow totaled a team-best seven rebounds for the contest.
Garrett Burga led the Warriors (1-2, 1-1) with 18 points and eight rebounds.
Malvern improved to 3-0 overall with the win.
STRASBURG-FRANKLIN 65, McDONALD 32
Strasburg-Franklin earned a road victory over McDonald High School in a Tuesday night blowout.
In a rescheduled contest that was originally set to play in Strasburg, the Tigers improved their record to 4-0 with an offensive outburst, engineered by Matthew Stevens' 17-point outing. Mason Wagner and Gage Moore each added 13 points for Strasburg, and Joe Fischer pitched in 10 points.
EAST CANTON 30, CONOTTON VALLEY 29
In a hotly competitive IVC North face-off on Tuesday, East Canton High School edged Conotton Valley High School.
The Hornets (1-1, 1-0) were led by Olly Schroder's 13 points, while the Rockets (0-2, 0-1) received nine points from Damon Reardin, along with Evan Rice's eight points.