New Philadelphia turned the ball over three times in the second half of a 21-10 loss to Mansfield Senior High School in a Friday night matchup at Woody Hayes Quaker Stadium.
The Quakers (2-3, 1-2 OCC) saw their first pair of drives of the second half end with an interception and a fumble, respectively, that put the Tygers (3-2, 1-1 OCC) deep inside New Phila territory. However, Mansfield failed to capitalize on its 14-10 halftime lead in either scenario, allowing the Quakers to get the ball back and drive down into the Tygers' red zone.
However, quarterback Keaton Fausel's pass to the end zone resulted in his second interception of the night, and on the ensuing Mansfield drive, Tygers slinger Duke Reese launched a 97-yard touchdown pass to Amarr Davis (four catches, 125 rec. yards, touchdown).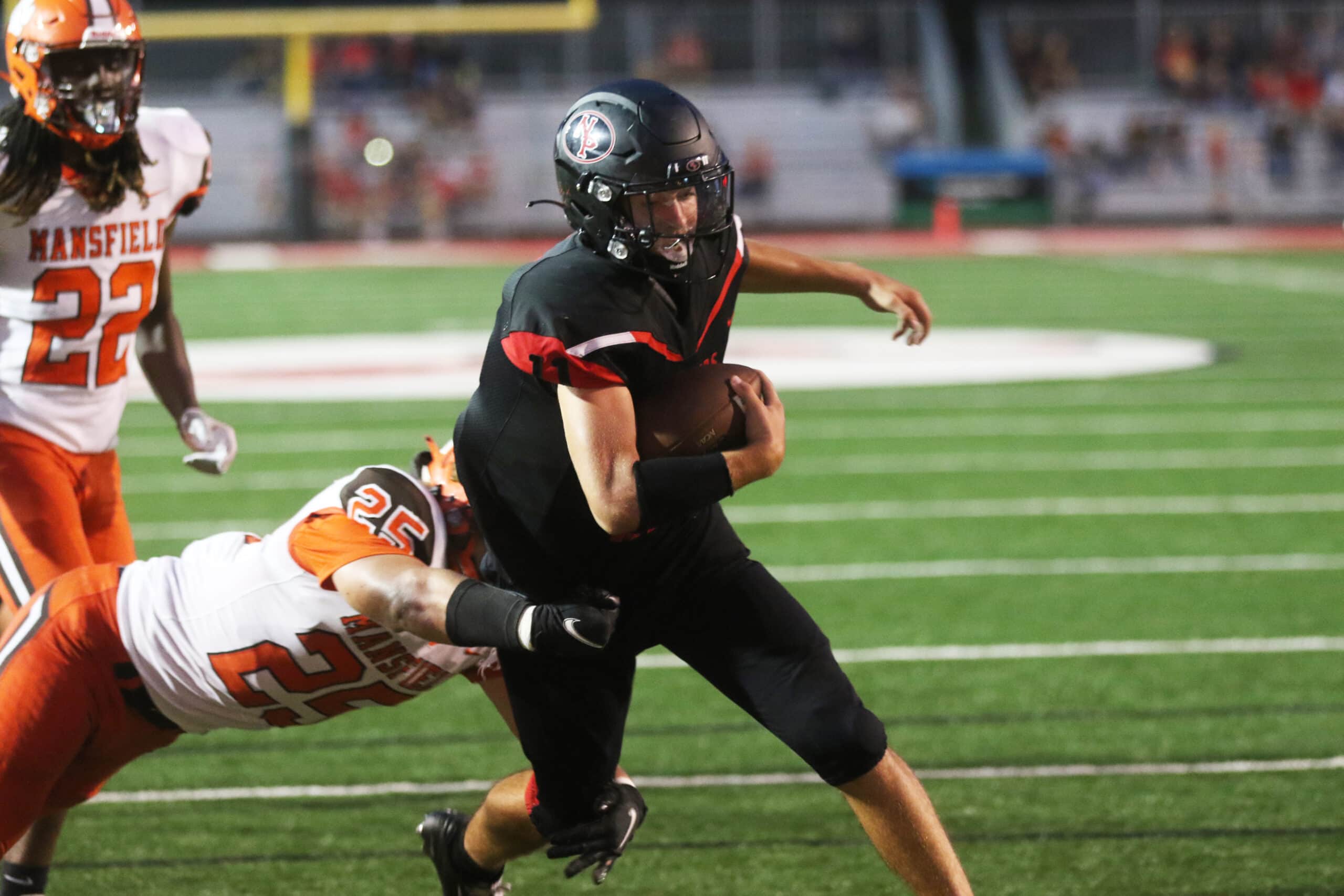 Mansfield running back Ricky Mills scored a pair of second-quarter touchdowns to give the Tygers their halftime lead, while New Philadelphia briefly took a 10-7 lead when Fausel scrambled for a 5-yard touchdown.
Fausel completed 10 of 19 passes for 141 passing yards, while also rushing for a team-high 45 yards.
Leo Hess led the Tygers with 13 tackles.
STEUBENVILLE 29, DOVER 13
While Mansfield Senior dropped New Philadelphia below .500, Steubenville handed Dover its first loss of the season in their Friday night showdown at Harding Stadium.
The Big Red jumped out to a 14-0 first-half lead, courtesy of two Spencer Ostovich touchdown runs, but the Crimson Tornadoes received two rushing scores from JJ Barton (one of them a 52-yard run) to cut the lead to 14-13 in the third quarter.
However, Gavin Bozica extended the visitors' lead to 21-13 with an 8-yard touchdown later in the 3rd, and Bozica added a 5-yard scoring rush to finalize the game's score.
The Crimson Tornadoes (4-1) will return home for next Friday's contest against Canfield (4-1).
WEEK 5 SCORES
EAST CANTON 34, SANDY VALLEY 28
INDIAN VALLEY 47, NEWCOMERSTOWN 16
CLAYMONT 27, BUCKEYE TRAIL 0
GARAWAY 51, STRASBURG-FRANKLIN 14
RIDGEWOOD 34, MALVERN 7
TUSCARAWAS VALLEY 35, TUSCARAWAS CENTRAL CATHOLIC 7
CONOTTON VALLEY 42, BRIDGEPORT 18
WEST HOLMES 56, MADISON COMPREHENSIVE 0
MASSILLON 31, ST. EDWARD 28
McKINLEY 51, GREEN 19
JACKSON 32, PERRY 31 (OT)
HOOVER 41, GLENOAK 31
LAKE 35, LOUISVILLE 7
ALLIANCE 34, CANTON CENTRAL CATHOLIC 7
CANTON SOUTH 42, MANCHESTER 6
FAIRLESS 42, ORRVILLE 14
CVCA 36, TRIWAY 6
NORTHWEST 40, TRIWAY 12
RAVENNA SOUTHEAST 44, MINERVA 13
WEST BRANCH 48, HOWLAND 15