Though Indian Valley made multiple trips into Dover's red zone on Friday night at Crater Stadium, the Braves failed to secure a touchdown to even themselves with the host Crimson Tornadoes.
Dover won their Week 3 matchup with visiting I.V., 20-6, in the first game between the two schools since 2007.
Tornadoes running back Mitchell Martin recorded two 2nd-half touchdowns while running for 68 rushing yards on 17 attempts, while quarterback Ben Hamm completed 11 of 12 passes for 136 passing yards and a touchdown to receiver Tyler Stevenson, who also totaled 107 receiving yards.
The Crimson Tornadoes led 7-3 in the second quarter when the Braves marched their way into Dover's red zone, moving all the way down to within the 1-yard line. However, Dover forced a turnover on downs on a goal-line stand that gave the Tornadoes the ball to end the half.
The Braves' backfield of Gavin Henry and Grady Kinsey combined for 63 rushing yards, while Sam Carter threw for 69 passing yards on 10-of-16 passing.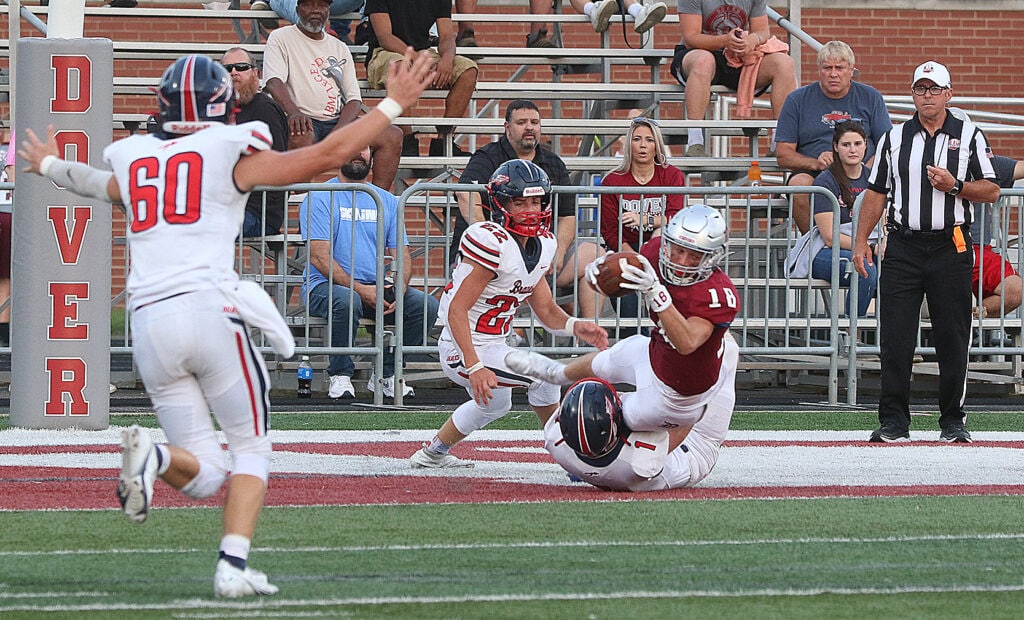 The Tornadoes are now 13-0 against Indian Valley, as Dover (3-0) will host Taylor Alderdice next Friday, while the Braves (1-2) will host Cambridge.
WEEK 3 SCORES
NEW PHILADELPHIA 21, WOOSTER 0
CANTON SOUTH 56, SANDY VALLEY 30
GARAWAY 35, DALTON 0
NEWCOMERSTOWN 58, CONOTTON VALLEY 44
TUSLAW 38, TUSCARAWAS VALLEY 20
FAIRLESS 35, CLAYMONT 6
RIDGEWOOD 7, MARLINGTON 6
CALDWELL 60, STRASBURG 0
WHEELING (W.Va) CENTRAL CATHOLIC 62, TUSCARAWAS CENTRAL CATHOLIC 21
CARROLLTON 63, ST. THOMAS AQUINAS 6