New Philadelphia's offense was stifled by Cuyahoga Valley Christian Academy's defense until late in the Quakers' 7-2 Friday night win to open both schools' seasons.
Quakers quarterback Keaton Fausel scored the go-ahead touchdown – the only offensive score of the game – on a 9-yard run early in the 4th quarter of the season opener.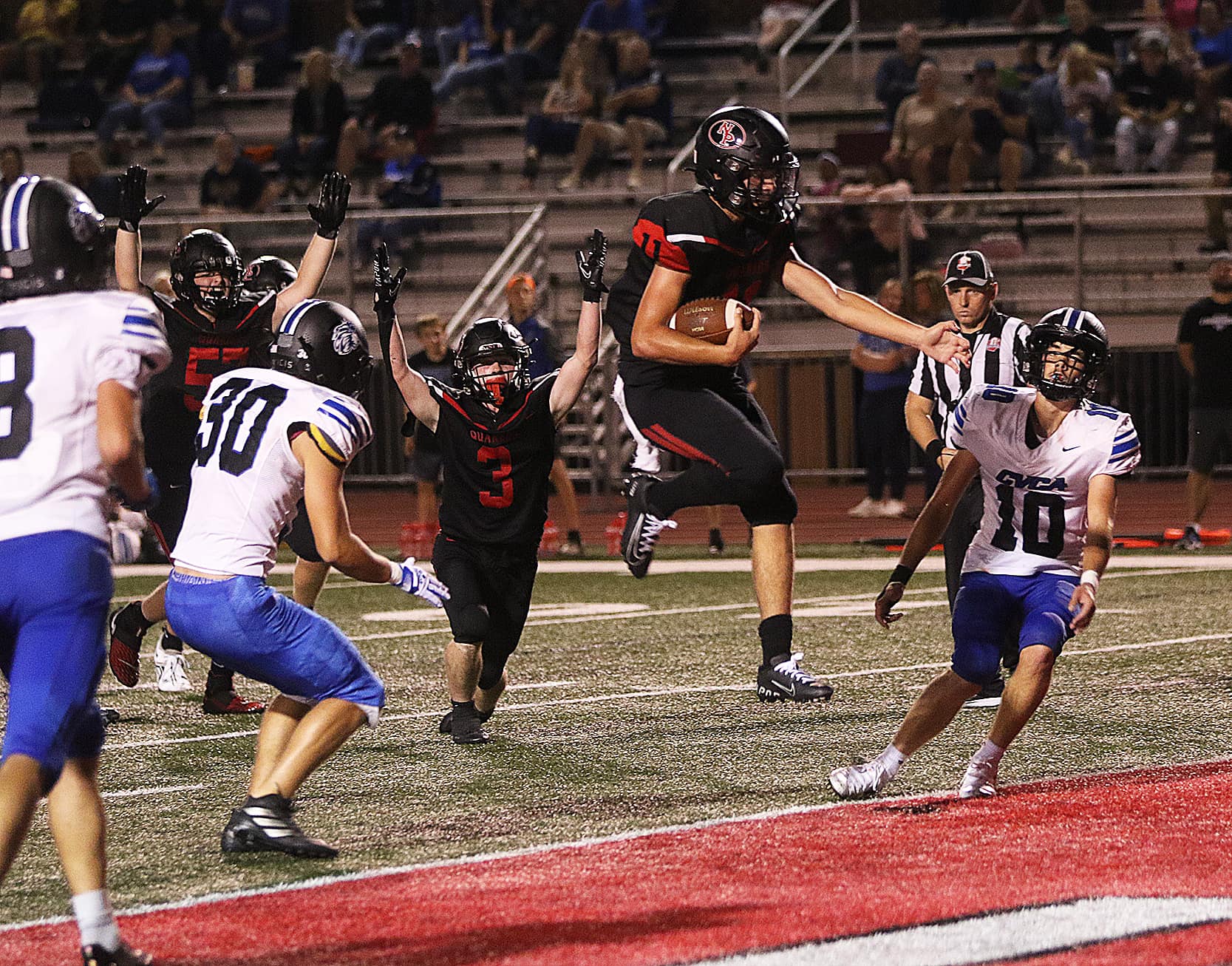 "I just saw two great blocks in front of me, and a wide open hole to the end zone," The sophomore described on his touchdown run after the game. "Never looking back."
Fausel ended the contest with 61 rushing yards on 15 carries, along with 8-of-14 passing for 57 yards.
The Royals jumped out to an early 2-0 lead with a 2nd quarter fumble in the New Phila end zone on a botched 4th down snap and held said lead until Fausel's touchdown.
New Philadelphia (1-0) is scheduled to play at home against Steubenville next Friday.
INDIAN VALLEY 41, BEAVER LOCAL 20
The Indian Valley Braves scored 31 unanswered points to overcome an early 2nd half deficit to Beaver Local.
RIDGEWOOD 42, COSHOCTON 14
Kauelen Smith scored three touchdowns to contribute to the Generals' high-scoring win over Coshocton on Friday.
DALTON 41, EAST CANTON 13
Greyson Siders totaled four touchdowns to lead Dalton to a season-opening win over East Canton.
The Bulldogs led 35-7 at halftime, guided by the strong performance from Siders, who ran for 155 rushign yards on 14 carries, along with 121 receiving yards on just four catches.
Dalton slinger Colin Pearson was 5-of-12 with 125 passing yards and a touchdown.
Hornets quarterback Brennan Betz threw for 112 yards and two touchdowns.
HARRISON CENTRAL 36, CLAYMONT 18
Harrison Central earned its 100 win in program history with its Friday night victory over Claymont.
ST. CLAIRSVILLE 48, CANTON SOUTH 34
St. Clairsville ran for 367 yards and overcame an early 13-0 deficit to Canton South.
OTHER SCORES
MALVERN 31, EAST PALESTINE 14
TUSLAW 49, CONOTTON VALLEY 48 (2 OT)
WAYNEDALE 21, TUSCARAWAS VALLEY 20
RITTMAN 32, STRASBURG 6
WEST HOLMES 41, TRIWAY 7