Carter Vandall went the distance and was part of both New Philadelphia runs that boosted the Quakers to a Division I East District championship on Wednesday.
The 5th-seeded Quakers beat No. 13 West Holmes, 2-1, in the District final at Sandy Valley High School.
Vandall retired 14 consecutive batters during his winning performance and struck out nine while allowing just four hits and one run.
"I was just feeling good today," said Vandall postgame. "My stuff was working. My curveball [was] hitting the outside corner. My fastball felt good. They were biting on a lot of things, and I was just able to go out there and show it."
"That dude's unreal, man," New Philadelphia coach Tyler Weisel said after the game. "I think we've got one of the best one-two punches in the state, with [Vandall] and [pitcher Brenton Billman]. The best thing about Carter is that he doesn't get too high, [and] doesn't get too low. This is Carter's moment, and he worked his tail off for this."
The Quakers actually totaled fewer hits (three) than the Knights but reached base six times on walks by West Holmes starter Nick Ginsburg, who struck out six over six innings.
New Philadelphia scrapped together the first run of the contest in the bottom of the first when Vandall scored on a Charlie Gibbs groundout.
West Holmes later loaded the bases with no outs in the bottom of the third, but Vandall settled down to record back-to-back strikeouts and a putout on a comebacker to the mound. The last three out of the third were the first of Vandall's lengthy stretch of consecutive putouts.
Vandall then added to his own lead with a single that scored Nathan Schumaker from second base to put the Quakers up 2-0.
Even with Vandall's streak, West Holmes broke the drought with two outs in the top of the 7th to place runners on first and second. Brady Smith slapped a single to left field to drive in a run, while the Knights threatened to tie the game with two runners on. However, Vandall recovered to force a Gino DiNardi popup to end the contest.
"Credit to them, they were able to execute in the last inning, but I kept my cool, and I was able to bear down and get that last out," Vandall added.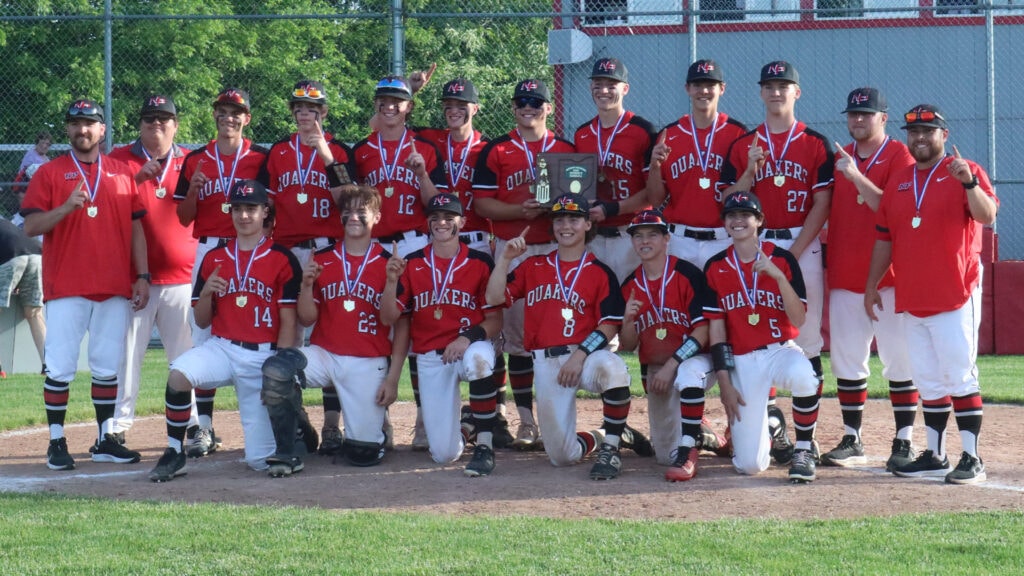 The Quakers will move on to play fellow East District champ Steubenville on Thursday, June 2 at Indian Valley High School. The Big Red beat Meadowbrook, 7-0, in their Wednesday District final at Harrison Central High School.
SOFTBALL
STRASBURG-FRANKLIN 13, SOUTH WEBSTER 2
Strasburg advanced to the Division IV Regional finals with a blowout victory over South Webster on Wednesday in Pickerington.
Emma Gilkerson slugged her 37th career home run, which surpassed Carly Clark's school record for career home runs. The reigning IVC North Player of the Year also added a single and double for 4 RBIs.
Amelia Spidell pitched a complete game, allowing two hits and two runs while striking out eight.
The Tigers will play Portsmouth Notre Dame on Saturday, May 28 in Pickerington for the Region 15 title.