No. 14 Boardman outlasted No. 3 New Philadelphia by scoring twice in the top of the 8th inning in what would be a 5-3 Division I District semifinal on Tuesday at Massillon Washington High School.
The Quakers and Spartans entered extra innings tied at 3-3 before Boardman plated two runs via an infield single and a bases-loaded walk, and held New Philadelphia hitless in the final frame to advance to Wednesday's Division I District final against 5th-seeded Cuyahoga Falls Walsh Jesuit (5 p.m.) in Massillon.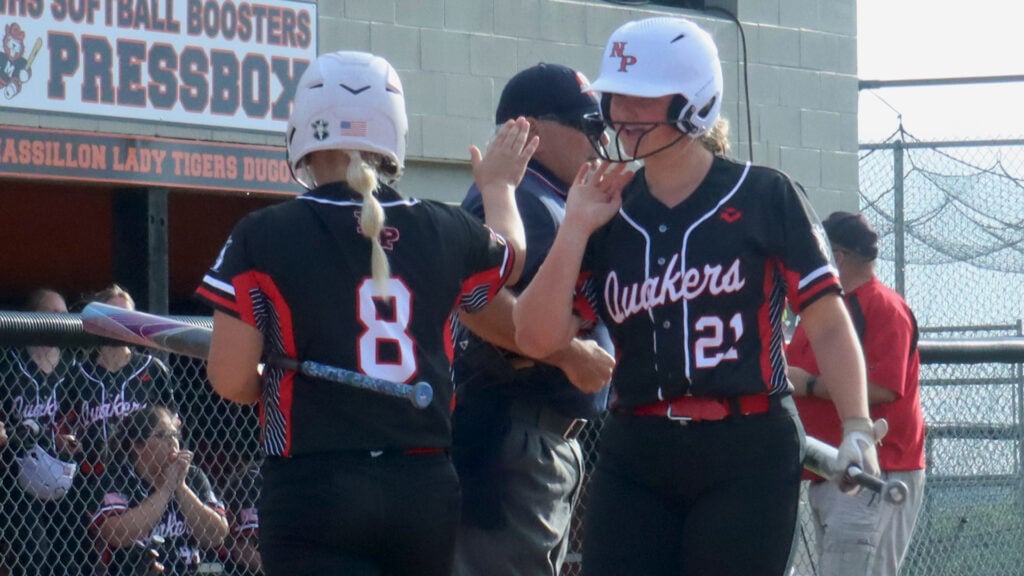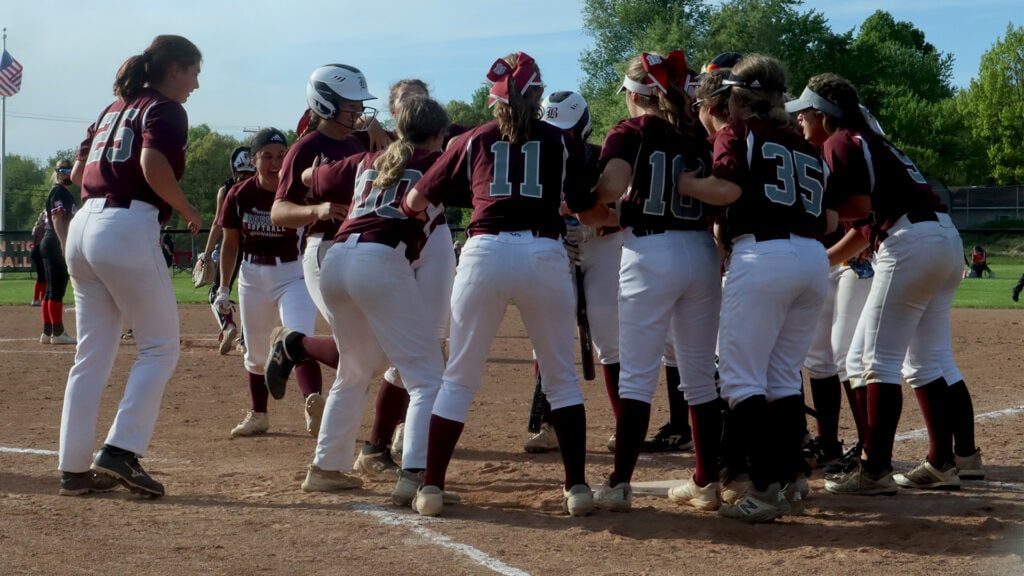 Quakers starter Julia Miller took the loss in a complete-game performance, in which the senior allowed five runs.
The Tuesday contest was a resumption of Monday's weather-stricken postseason game, and began with Boardman leading 1-0 in the top of the 1st. The Quakers would tie the game in the bottom of the 2nd, but gave the lead back on Spartans senior Madison Lester's solo home run off Miller to make it a 2-1 game in the 5th.
Miller, however, roped an RBI single to tie the game in the bottom half, while an RBI groundout gave the Quakers a 3-2 lead. However, Sofia Hoffman's run-scoring single in the top of the 6th knotted the game at 3-all before heading to extra frames.
The Quakers' season ends at a 20-5 mark.
No. 5 TUSCARAWAS VALLEY 3, No. 2 HARRISON CENTRAL 2
Tusky Valley earned a minor upset over Harrison Central in Tuesday's Division III East District semifinal at Conotton Valley High School.
The Lady Trojans will face top seed Martins Ferry on Wednesday in the District finals at Cambridge City Park.
No. 1 TUSLAW 2, No. 12 CHIPPEWA 0
Meredith Rankl pitched a no-hitter to lead Tuslaw to a Division III Creston District semifinal win over Chippewa.
The Mustangs will play No. 5 Norwayne in Thursday's Division III District final at Norwayne.
No. 1 MARINGTON 7, No 13 NOTRE DAME CATHEDRAL-LATIN 2
Top-ranked Marlington won their Division II Hubbard District semifinal over Notre Dame Cathedral-Latin on Tuesday.
Ava Collins went 3-for-3 with a triple and an RBI to lead the Lady Dukes, who will play No. 6 Mogadore Field in Thursday's District championship.
BASEBALL – POSTSEASON
No. 5 NEW PHILADELPHIA 8, No. 16 EAST LIVERPOOL 3
New Philadelphia opened Division II East Sectional play with a win over the Potters of East Liverpool.
The Quakers will play 12th-seeded Indian Creek in Monday's East District semifinals at a site to be determined. Indian Creek upset No. 3 Cambridge, 4-2, on Tuesday.
No. 13 WEST HOLMES 4, No. 2 TRI-VALLEY 0
Noah Clark struck out 13 batters as West Holmes pulled off an upset over 2nd-seeded Tri-Valley in Tuesday's East Sectional finals.
The 12th-ranked Knights will advance to next Monday's East District semifinals against No. 10 John Glenn, who beat No. 9 Morgan, 9-5, on Tuesday.
No. 1 INDIAN VALLEY 14, No. 19 UNION LOCAL 4 (6 INN.)
The Indian Valley Braves mercy-ruled Union Local in Tuesday's Division II East Sectional final in Gnadenhutten.
Cole Lancaster drove in four runs on three hits (including two triples) to lead the Braves' offense, while winning pitcher Gavin Henry allowed four runs on three hits and struck out five through 4.1 innings.
Indian Valley will move on to Monday's Division II East District semifinal against 7th-seeded Steubenville at a site to be determined. The Big Red beat No. 11 Carrollton, 1-0, on Tuesday.
No. 13 ROCKY RIVER LUTHERAN WEST 6, No. 10 EAST CANTON 0
Lutheran High School West took a Division III Creston Sectional semifinal at East Canton in Tuesday's make-up.
The Longhorns will play at No. 9 Akron Manchester on Wednesday for the Sectional title.
No. 27 FAIRLESS 21, No. 32 CLEVELAND JOHN F. KENNEDY 1 (5 INN.)
Fairless' offense exploded for 21 runs in Tuesday's make-up of the Division II Twinsburg Sectional semifinal at Terry Griffith Field.
The Falcons will play at the University School on Wednesday at 5 p.m. for the Sectional title.
BASEBALL – REGULAR SEASON
STRASBURG 17, CONOTTON VALLEY 7
Strasburg won a non-playoff Tuesday contest at Conotton Valley High School.