New Philadelphia scored on an error to best Stow Munroe-Falls, 1-0, in Tuesday's Division I Massillon District final at Tuscora Park.
Quakers ace Julia Miller pitched a complete game, striking out 20 Bulldog batters.
No. 3 New Phila will face off with No. 14 Boardman on Monday (5 p.m.) in the Massillon District semifinal.
DOVER 8, PHILO 6
Dover earned their Division II East Sectional title in a road victory at Philo High School on Wednesday.
The 8th-seeded Crimson Tornadoes will advance to Monday's Division II East District semifinal against Indian Valley.
INDIAN VALLEY 4, ST. CLAIRSVILLE 3
No. 2 Indian Valley staved off a late St. Clairsville rally to win the East Sectional title over St. Clairsville on Tuesday in Gnadenhutten.
Braves starter Cam Enos (3 runs, 7 hits, 7 strikeouts) earned a victory in a 5.2-inning performance, while Mia Rose picked up a save.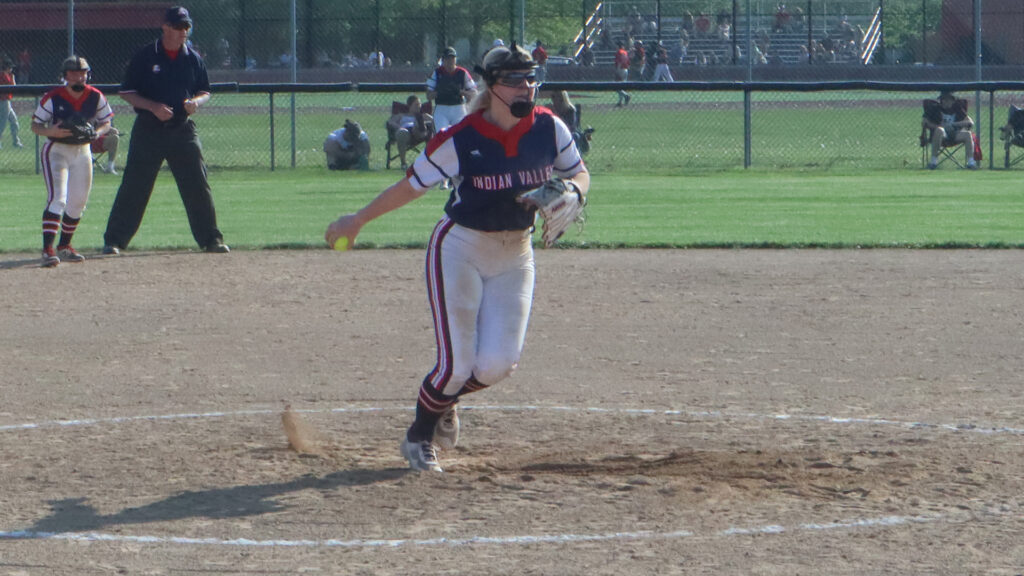 Indian Valley improves to 18-6 as they square off with Dover in next week's East District semifinals.
MAYSVILLE 10, CLAYMONT 0
No. 7 Maysville ended host Claymont's season in Wednesday's Division II Sectional final at Uhrichsville.
Mallori Bradley tossed a two-hit shutout for the Panthers, while Hailey Fellows and Lani Abbuhl recorded hits for the Mustangs.
WESTERN RESERVE 11, EAST CANTON 1 (5 INN.)
Western Reserve won their Division IV North Jackson Sectional final over East Canton in a five-inning Tuesday tournament matchup.
Hannah Spencer went 2-for-3 with a single and a double for East Canton.
MINERVA 10, CARROLLTON 5
No. 9 Minerva dropped double digits on Carrollton in Tuesday's Division II Sectional final.
Bella Murray drove in four runs with two doubles, while Lydia Brunner and Jada Shafer each added two singles and a double.
The Lions (12-8) will face top-seeded John Glenn on Monday at 5 p.m. in the District semifinals.
LOUISVILLE 12, HOWLAND 9
#17 Louisville rallied for a Sectional final win over #13 Howland.
The Leopards led 7-6 before Alyssa Massucci roped a 3-run home run in the bottom of the 6th inning. In the top of the 7th, Steve Barrett scored a run on a steal of home plate, followed by a 2-run home run by Jenna Collins to give Louisville a 10-9 lead.
The Leopards would score two more runs before closing out the Tigers in the bottom half.
Louisville will advance to play top-seeded Austintown-Fitch in Monday's Austintown District semifinal.
SOFTBALL – REGULAR SEASON
CONOTTON VALLEY 2, TUSCARAWAS CENTRAL CATHOLIC 1
Conotton Valley's Lanie Bower hit a walk-off single to boost the state-ranked Rockets to victory in a Wednesday makeup against Tuscarawas Central Catholic.
The Saints managed to tie the game in the top of the 7th inning on an error but did not record a hit for the entirety of the contest.
HILAND 7, MALVERN 3
Hiland earned its first win of the season in a Wednesday regular-season decision over IVC rival Malvern.
The Hawks, who earned their first victory since 2019, were led by a run-scoring single by Ava Weaver, as well as RBI singles by Weaver and Annie Troyer.
Troyer pitched a complete game to lead Hiland to victory.
Audrey Sikorsky led the Hornets with a double and an RBI.
BASEBALL
GARAWAY 6, HILAND 3
The Garaway Pirates earned their second straight win over state-ranked Hiland in Wednesday's IVC showdown at Sugarcreek.
Alexander Roden totaled seven strikeouts in a complete-game performance, while Brady Roden and Preston Miller each doubled for the Pirates.
Grant Miller led the Hawks with three hits.
Garaway improves to 7-5 in the IVC South and 14-5 overall.
INDIAN VALLEY 8, TUSCARAWAS VALLEY 5
Indian Valley overcame a 4-1 deficit and clinched the Inter-Valley Conference South Division title in a Wednesday win over Tusky Valley.
For the Braves (18-4, 11-1 IVC), Jacob Burcher tied the game at 4-4 with a 2-run double in the 6th inning, while Trevor Myers followed with a 2-run single.
Brad Lab went 3-4 while driving in two runs for the Trojans (10-9, 8-5 IVC), while Beau Wolf, Austin Kohler, and Cole Clements each recorded two hits.
CONOTTON VALLEY 3, MALVERN 1
Conotton Valley won an IVC North showdown with Malvern on Wednesday.
Justin Lambert hit a 2-run home run to start the Rockets' scoring in the first inning, while Brett Putnam outdueled Hornets starter Johnny Walker.
Malvern dropped to 11-10 with the loss.
STRASBURG 13, NEWCOMERSTOWN 1
A 6-run 4th inning elevated Strasburg for a 5-inning victory over Newcomerstown on Senior Night.
The Tigers (9-12, 8-3 IVC North) were led by senior Nick Martin's double and 2 singles, while fellow seniors Cooper Dailey (single, triple) and Evan Rissler (single) contributed to the Strasburg offense.
Drake Reifenschneider and Mason Wagner added 2 hits each for the Tigers.
Winning pitcher Alex Burkett allowed one run on two hits through four frames.
CARROLLTON 7, MINERVA 2
Carrollton scored five runs in the 3rd inning of their Tuesday Eastern Buckeye Conference win over the Minerva Lions.
The Warriors improve to 14-8 on the season.
ALLIANCE 5, MARLINGTON 1
Alliance earned an Eastern Buckeye Conference win over Marlington.
Eric Bennett allowed five hits and a run in a complete-game outing for the Aviators while striking out five and walking three.
BOYS TENNIS
HILAND 5, CANTON McKINLEY 0
Hiland's boys' squad earned a Wednesday team win over Canton McKinley.