GALLIPOLIS, Ohio (JMN Sports) – The Minerva Lions finished in 1st place at the Division II District wrestling tournament at Gallia Academy.
The Lions finished with 139.5 points for the tournament, ahead of West Holmes (2nd, 134.5) and Miami Trace (3rd, 131.5).
For the Lions, Kaiden Haines took first-place in the 215-pound division, while Garrett Hilliard reached the 190-pound final before falling to Indian Creek's Austin Starr. Connor Norris (113), Khalil Louive (157), and Nick Chaddock (165) earned third-place finishes, while Mark Mueller (106) finished fifth, while Andrew Strader (120) reached the third-place match. Chaddock, Haines, Hilliard, Louive, Norris, and Strader all advanced to the Division II state tournament in Columbus, while Mueller qualified as an alternate.
Minerva not only won the districts for the first time in school history but its six wrestlers being sent to Columbus also totals as a school record.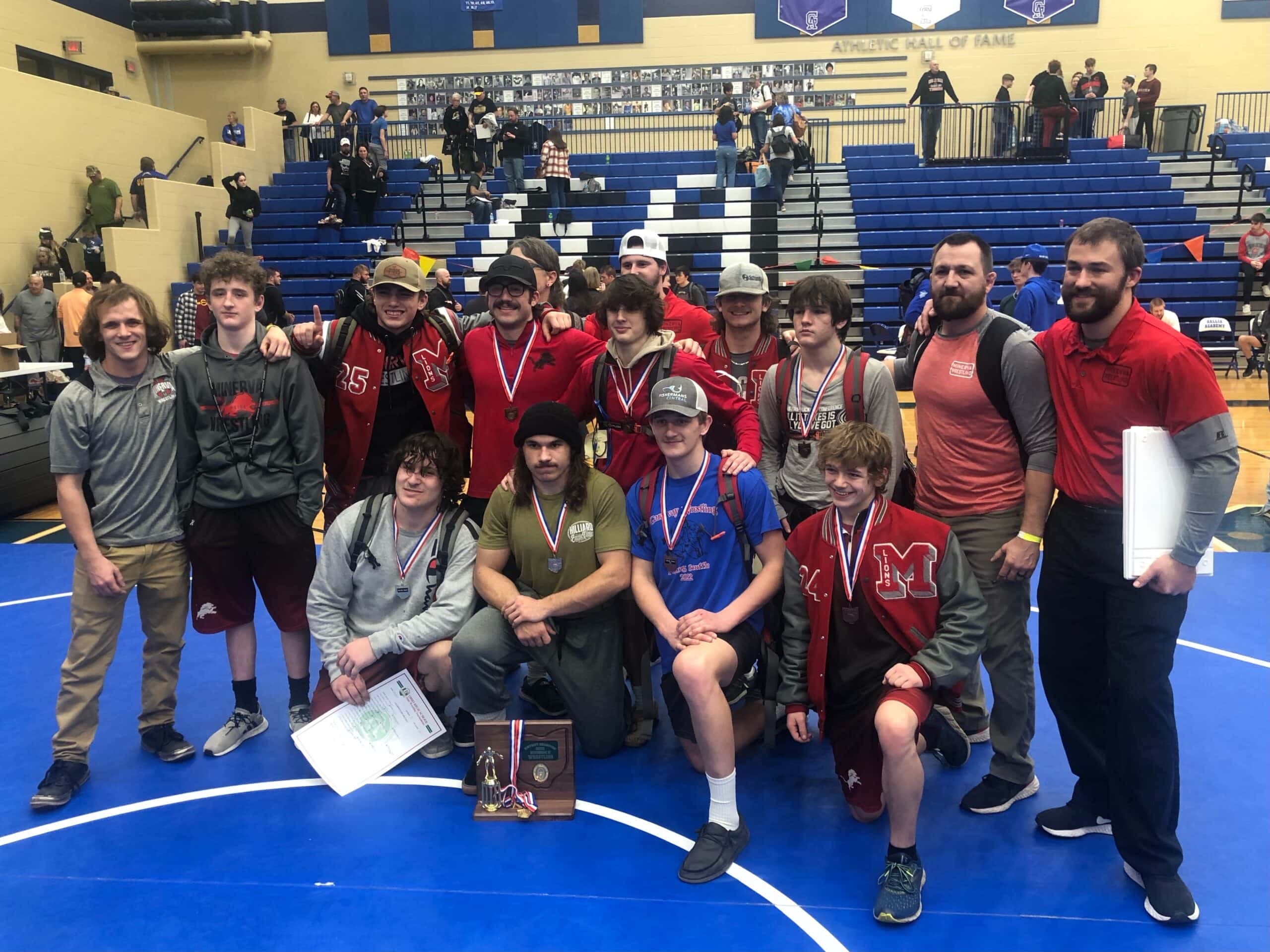 West Holmes boasted two first-place finishers in Brady Smith (106) and Mason Taylor (113), as well as two third-place wrestlers: Dylan Strouse (138) and Tucker Kaufman (144). Elisha Baldridge (3rd place finalist, 215) and Conner Varnes (5th place finalist, 150) also participated for the Knights.
Carrollton High School finished in seventh place with 101.0 points, followed by Dover (8th, 87.5), Indian Valley (10th,78.5), River View (20th, 26.0), Claymont (tied-21st, 23.0), New Philadelphia (tied-21st, 23.0), and Cambridge (23rd, 21.5).
Josh Carman (1st place, 126), Landon Jenkins (2nd place, 106), Levi Pidgeon (3rd place, 120), Kail Snair (5th place, 113), and Domanick Speelman (5th place, 138) each earned finishes for Carrollton.
Dover was represented by Pedro Garcia (3rd place, 132), who bested Claymont's Elijah Parrish, while Noah Tristano (285) fell to WCH Washington's Mason Mustain in the third-place round. Christian Gomez-Sanchez (5th place, 120) also represented the Crimson Tornadoes.
Indian Valley's Remington Meyers won the 165-pound division, while Quake Beatty finished fifth in the 132-pound division. Easton Cook dropped the fifth-place 215 match to Indian Creek's Gavin Dondzila.
New Philadelphia's Charlie Gibbs lost the 150-pound third-place match to Steubenville's Savier Faulks.
Cambridge's Caden Kenworthy earned the 175-pound third-place finish.