Dover boys basketball head coach Bob Von Kaenel won his 700th career game in a 67-41 OVAC semifinal win over University School on Tuesday night.
Von Kaenel becomes just the fifth Ohio high school boys coach to total 700 career wins, alongside Richard Kortokrax (890), Joe Petrocelli (831), Norm Persin (748), and Ed Heintschel (725).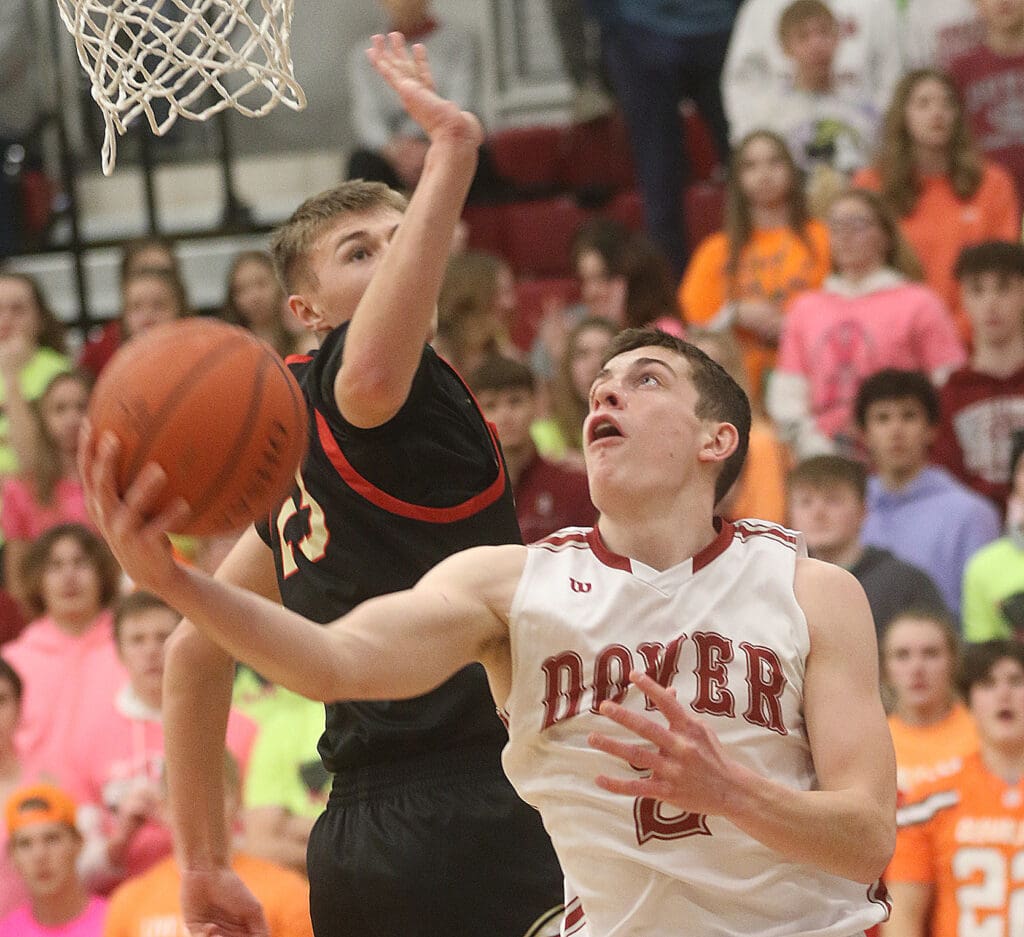 The Crimson Tornadoes (17-1) received a 20-point performance from T.C. Molk, who also totaled six rebounds and five assists for the contest.
Dover is set to face Morgantown in the OVAC 5A final, set for Saturday, Feb. 13 at Harrison Central High School.
MALVERN 62, STRASBURG 43
Malvern claimed its third consecutive IVC North Division title in a Tuesday night home victory against the Strasburg Tigers.
Noah Ball scored a Hornets-high 18 points, while KJ Thomas (17 points) and Connor Lefevre (13) contributed to the Malvern victory.
The Tigers (12-6, 8-3) were led by Landon Potopsky's game-high 28 points – 18 of which were scored in the game's final period.
Malvern improved to 15-3 and an IVC North-best 11-0 with the win.
HILAND 56, RIDGEWOOD 41
Hiland High School spread out its offense in a 15-point victory over Ridgewood that claimed the IVC South title for the Hawks.
Hiland (15-3, 10-1 IVC South) was led by Chris Shetler's 12 points – followed closely by Caden Miller (10 points), Sammy Detweiler and Dylan Weaver (nine points apiece).
The Generals dropped to 11-7 overall and 5-6 in the IVC South.
NEW PHILADELPHIA 54, CARROLLTON 31
The New Philadelphia Quakers rebounded from their Monday night loss to take a sizeable win over the Carrollton Warriors on Tuesday.
Michael Vickers scored 20 of his game-high 22 points after halftime, while Carter Vandall added 11 points for the Quakers (13-5).
GARAWAY 57, SANDY VALLEY 42
The Garaway Pirates spoiled Sandy Valley's Tuesday night hosting in a 14-point win.
The Pirates (13-4, 7-3 IVC South) were led by Brady (18 points) and Alexander Roden (13 points) in scoring.
The Cardinals (6-13, 1-9 South) received 10 points apiece by Dantae Faiello and Brandon Wigfield.
TUSCARAWAS VALLEY 53, CLAYMONT 32
Tusky Valley moved to 7-4 in the IVC South and 14-5 overall with a win over Claymont on Tuesday.
The Trojans shot 21-of-41 (51%) from the floor and sank eight three-pointers – five of which came from Logan Stotzer as part of a game-high 22 points. Dawson Williams followed Stotzer's outing with 12 points, while Silas Miller added 10 points for Tusky.
The Mustangs (3-15, 1-10 South) received nine points from Bryce Muray, as well as six points each from Connor Lynch and Jesse Seibert.
CONOTTON VALEY 39, SHENANDOAH 36
The Conotton Valley Rockets edged Shenandoah in a Tuesday night showdown in Bowerston.
The Rockets improved to 6-11 with the victory.