The Dover Crimson Tornadoes outscored the New Philadelphia Quakers 33-18 in the second half of a 47-38 victory on Friday night at Dover High School.
Leading the way for the Tornadoes was Ayden Hall, who scored 21 points. T.C. Molk followed with 12 points for Dover, who split their season series with the Quakers after New Phila beat the Tornadoes, 55-45, back on Dec. 17.
For the Quakers (10-4), Carter Vandall scored a team-high 11 points, while Michael Vickers added nine points, and Jadan Lowery and Kayden Schoelles had eight points each.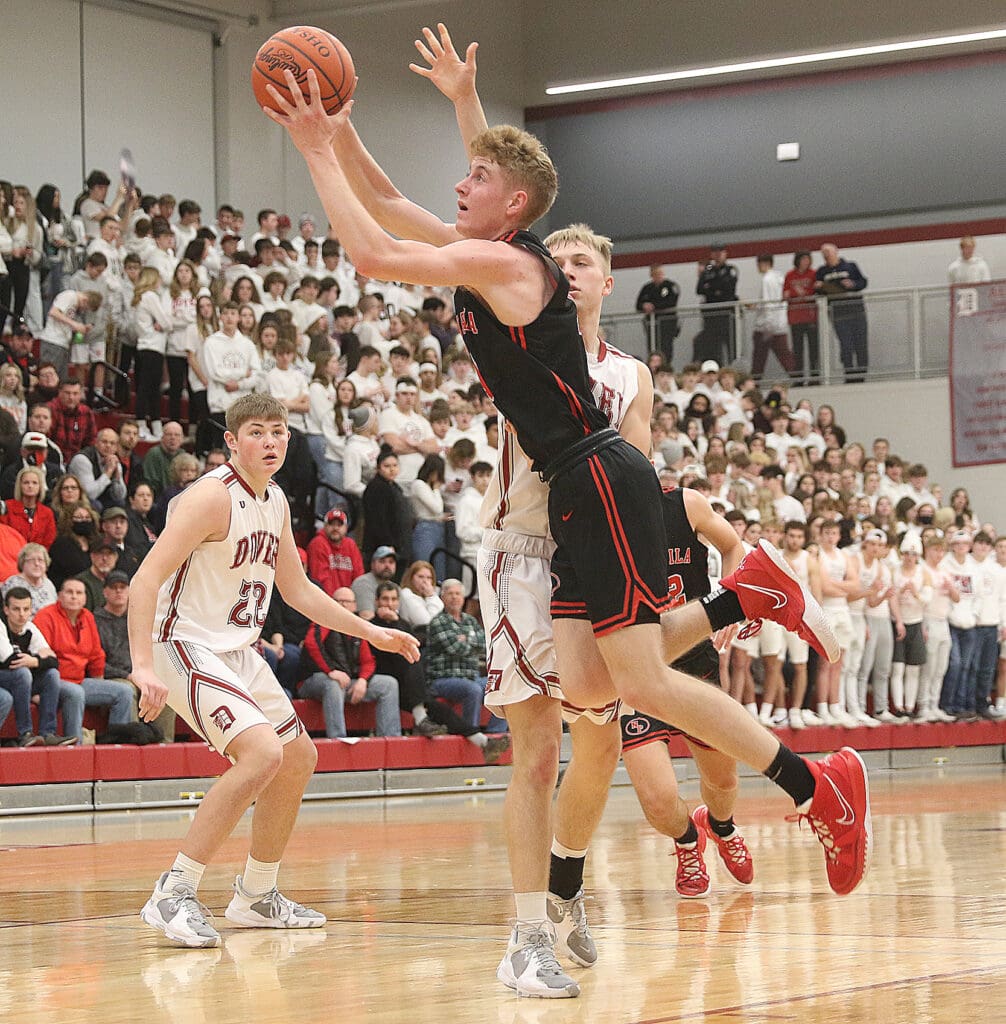 The Crimson Tornadoes won their twelfth consecutive game and boosted their record to 15-1. With both the Tornadoes and Quakers standing at 4-1 in the East Central Ohio League standings, a Dover win over Marietta on Tuesday and a Quaker victory at Vincent Warren next Friday would leave the schools as ECOL co-champions.
CLAYMONT 49, GARAWAY 47
Claymont pulled off an IVC South upset over Garaway High School on Friday.
The Mustangs (3-12, 1-8 IVC South) were led by Connor Lynch's 14 points, while Nate Barnabi totaled nine points.
Logan Yoder led the Pirates (10-4, 6-3) with 14 points, followed by Brady Roden with 12 points.
INDIAN VALLEY 51, HILAND 48 (OT)
The Indian Valley Braves handed state-ranked Hiland its first in-conference loss of the year in a Friday night victory in Berlin.
Lucas Hagan had 16 points for the Braves (11-5, 5-4 IVC South), while Isaac Klaserner (13 points) and Tanyon McComb (12) contributed to the I.V. victory.
Sammy Detweiler led the Hawks (13-3, 8-1 South) with 15 points and Chris Shetler added 12.
TUSCARAWAS CENTRAL CATHOLIC 42, STRASBURG 38
Tuscarawas Central Catholic earned a close road win at Strasburg on Friday.
Landon Potopsky led the Tigers (10-5, 7-2 IVC North) with 23 points, but the Saints improved their record to 9-8 (7-3 North).
TUSCARAWAS VALLEY 56, SANDY VALLEY 44
A late offensive push by Tusky Valley led to a Trojan win over Sandy Valley on Friday night.
Logan Stotzer totaled 30 points for T.V. (15-5, 5-4 IVC South), and Silas Miller added 16 for the Trojans.
The Cardinals (5-11, 1-7 South) were led by Kaiden Mastri's 16 points , while Dantae Faiello followed with eight points.
MALVERN 75, EAST CANTON 54
State-ranked Malvern bested East Canton in a Hornets vs. Hornets face-off on Friday night in Malvern.
The host Hornets had five players in double-figures scoring, including Mitchell Minor's team-high 17 points via five 3-pointers. Michael Minor (16 points), KJ Thomas, Connor Lefevre (11 points each) and Dylan Phillips (10) contributed to the Malvern victory, which moved their record to 13-2 (9-0 IVC North).
East Canton (4-11, 3-6) was led by Luke Riley's game-high 22 points.
BUCKEYE TRAIL 63, NEWCOMERSTOWN 24
The Buckeye Trail Warriors blew out Newcomerstown on Friday.
The Warriors (6-9, 5-5) outscored the Trojans (2-15, 0-10) by a 57-15 margin after trailing Nc'Town 9-6 after the opening quarter.
NORTHWEST 55, FAIRLESS 35
Northwest High School bested the Fairless Falcons on Friday night to remain atop the PAC-7 standings.
Chase Badger nailed four 3-pointers and scored 14 points to lead the Indians' victory.
BOWLING
CARROLLTON 2690, CLAYMONT 1815 (BOYS)
CARROLLTON 2450, CLAYMONT 2223 (GIRLS)
Carrollton High School's bowling team swept Claymont on Friday night at Carroll Lanes.
The Warrior girls (11-2, 5-0 Stark County Conference) were led by Joline Graves's 384 series (204-180), along with scores from Tara Oberlin (379, 158-221) and Mackenzie Rummell (332, 160-172).
Mya Banks led the Lady Mustangs with a 401 (190-211).
For the boys' match, Kobe Green paced Carrollton (10-3, 5-0 SCC) with a 494 (258-236), while Ian Pallaye addeda 443 (257-186) and Bryce Taylor totaled 430 (209-221).
For Claymont's boys, Xan Benedum scored a 288 (153-135).
INDIAN VALLEY, 1848, DOVER 1835 (BOYS)
DOVER 1780, INDIAN VALLEY 1656 (GIRLS)
Dover and Indian Valley split their respective matches on Friday at Cy Young Lanes.
The Braves boys won a close match, with Frasher Grayscoring a team-high 332 (164-168) and Daniel Grewell's 297 (151-146).
Dover was led by Jacob Shanklin's 340 (188-152).
For the girls' match, the Crimson Tornadoes won with Kaylie Gibson posting a 376 (199-177) and Sydney Zimmerman totaling 322 (145-177).