The Ridgewood Generals edged the Sandy Valley Cardinals, 64-60, in an IVC South showdown on Tuesday night in Magnolia.
Zander Stroup scored 19 points, while Dalton Patterson (15 points, eight rebounds) and Kigenn Millender (13 points) added to the state-ranked Generals' win.
Kaiden Mastri led the Cardinals (5-8, 1-5 IVC South) with a game-high 25 points and eight rebounds, while Dantae Faiello added 17 points.
Ridgewood, currently the 10th-ranked team in Division III, moved to 10-2 (4-2 South) with the victory.
MALVERN 63, MINERVA 43
Malvern bounced back from its Friday loss at Sandy Valley with a 20-point win over Minerva on Tuesday.
Michael Minor led the Hornets (10-1) with 19 points, while KJ Thomas scored 11 points and J'Allen Barrino totaled 10 for the game.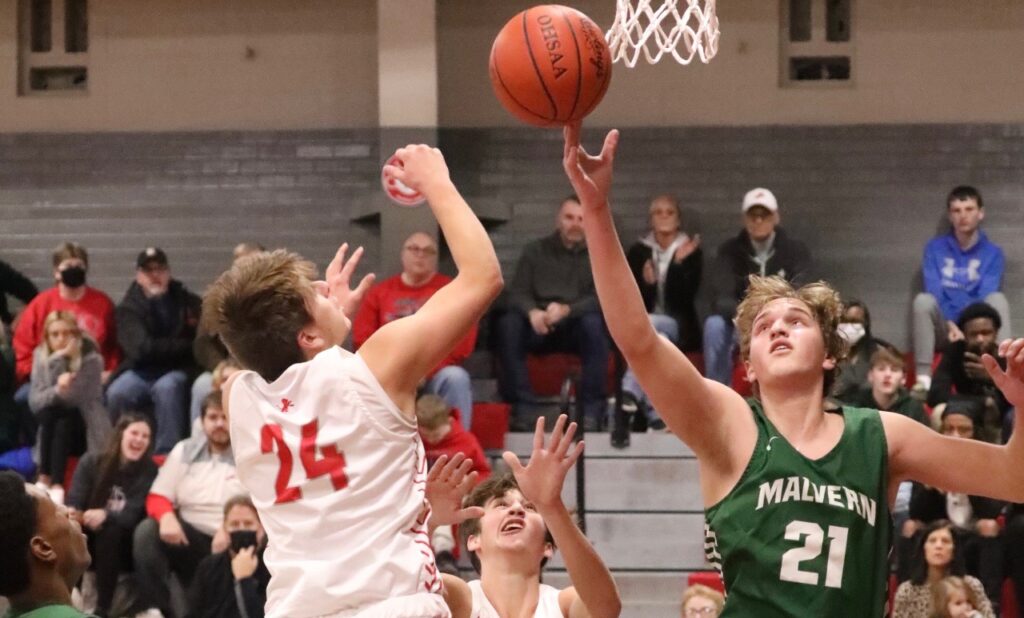 Brayden Costea led the Lions (1-8) with 15 points.
GARAWAY 54, FAIRLESS 47
Garaway rallied for a seven-point victory over Fairless on Tuesday night.
Four Pirates scored in double figures, with Drew Mullet leading the Bucs at 15 points. Brady Roden (13), Alexander Roden (11), and Jarett Wallick (10) also scored for the Pirates (8-2).
Carson Colucci led the Falcons (6-8) with 15 points.
WAYNEDALE 73, TUSCARAWAS CENTRAL CATHOLIC 59
The Waynedale Golden Bears picked up a home win over Tuscarawas Central Catholic on Tuesday.
Dawson Troyer and Jeremy Reber each scored 23 points to lead the Bears (5-5), while Trey Barkman added 13 points.
Zander Sabin led the Saints (5-7) with a game-high 33 points.
HILAND 50, TRIWAY 12
Hiland High School's defense locked down the Triway Knights on Tuesday night in Berlin.
Caden Miller scored 10 points to lead the Hawks (10-2), while Dylan Weaver and Tony Yoder scored nine points apiece.
WEST HOLMES 71, CLAYMONT 41
West Holmes won a non-conference home matchup with Claymont High School on Tuesday night.
Zevin Proper scored 23 points for the Knights and tied the school record of most 3-point goals in a game, while Channer Wells tallied 18 points and Blake Morrison pitched in 11.
Connor Lynch led the Mustangs (2-10) with 17 points.
GIRLS BASKETBALL
STRASBURG 54, EAST CANTON 22
The Strasburg Tigers rolled to their 13th straight victory in a blowout win over IVC North foe East Canton.
Rylee Thomas totaled 21 points for Strasburg, while Emma Gilkerson added 17 for the 13-1 Tigers.
Emily Haas led the Wizards (3-11, 3-5 IVC North) with nine points.
Strasburg moved to 8-0 in IVC North play with the win.
BOWLING
CONOTTON VALLEY 2092, DOVER 1756 (BOYS)
CONOTTON VALLEY 2201, DOVER 1484 (GIRLS)
The Conotton Valley Rockets swept their dual matches with Dover High School on Tuesday.
In the boys' match, Conotton's Bobby Brennan bowled a 237 high game ahead of a 454 series.
For the CV girls, Daphne Stuber bowled a 236 en route to a 414 total.
CARROLLTON 2312, ALLIANCE 2124 (BOYS)
CARROLLTON 2659, ALLIANCE 1406 (GIRLS)
Carrollton's boys and girls squads swept sweep an Eastern Buckeye Conference match with Alliance at Carroll Lanes.
The Carrollton girls improved to 8-2 overall and 4-0 in the EBC, as Tara Oberlin led the way with a 427 (226-201).
Abby Natcher posted with a 373 (180-193) for the Lady Warriors.
For the boys' match, Ian Pallaye led Carrollton at 385 (200-185), while Brant George followed with a 384 (210-174).
The Carrollton boys improved to 7-3 and 4-0 in EBC play.