New Philadelphia High School defeated Massillon Washington by a score of 52-41.
The Quakers (5-1, 2-0 ECOL) were led by 14-point performances each by Carter Vandall and Michael Vickers, while Jadan Lowery added 13 points for N.P.
DOVER 74, CANFIELD 60
The Crimson Tornadoes improved to 5-1 with a victory over Canfield.
The Tornadoes led 36-26 over the Cardinals at halftime.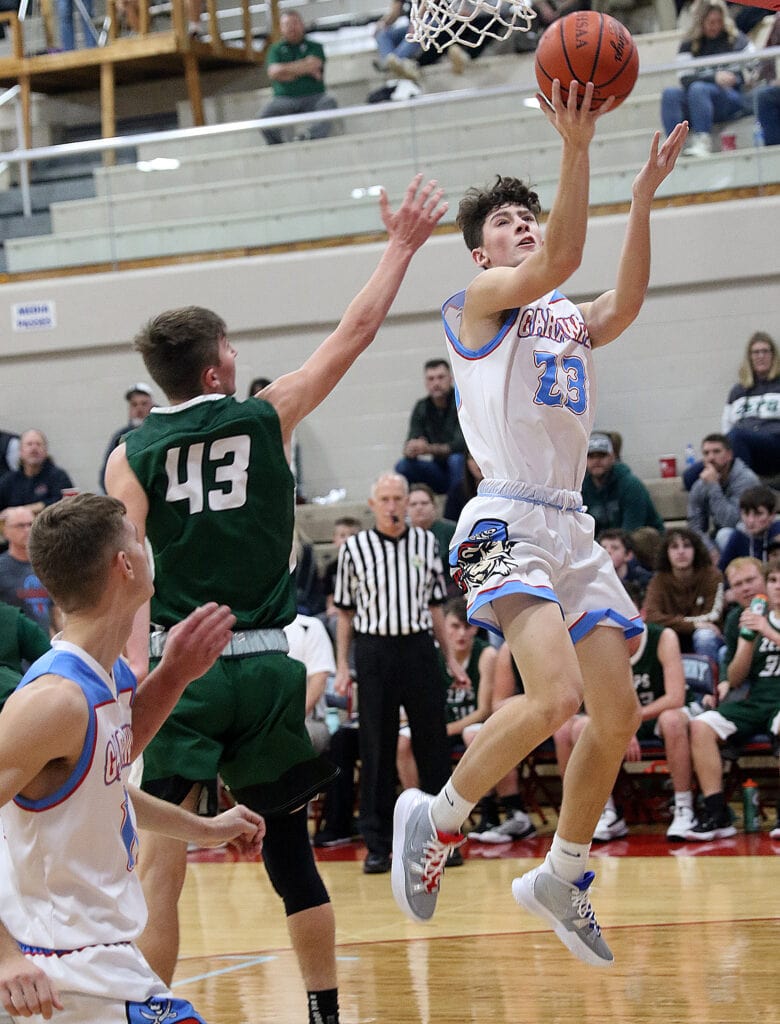 GARAWAY 58, SHENANDOAH 41
Garaway stifled the Shenandoah offense in the second quarter, allowing just two points in what would be a 17-point Pirates victory on Tuesday in Sugarcreek.
The Bucs (4-2, 4-1 IVC) were led in scoring by Jenson Garber with a game-high 14 points, while Brady Roden and Jarrett Wallick each pitched in 10 points.
Zander Fairchild led the Zeps with 13 points, all of which were scored in the second half. Grant Stottsberry also scored 11 points for Shenandoah.
RIDGEWOOD 55, TUSCARAWAS VALLEY 53
Ridgewood (6-1, 3-1 IVC) edged Tusky Valley in a Tuesday night matchup in West Lafayette.
Kaden Bradford (14 points), Kigenn Millender and Braden Maleski (10 points each) led the Generals in scoring, while the Trojans (6-2, 2-2 IVC) got 15 points from Logan Stotzer, 14 from Connor Newsome, and 10 from Silas Miller.
MALVERN 71, CONOTTON VALLEY 38
Malvern senior Michael Minor became the 18th player in school history to reach the 1000-point career mark in the Hornets' blowout win over Conotton Valley on Tuesday.
Minor led the Hornets with 20 points, while J'Allen Barrino and Connor Lefevre scored 12 points apiece.
The Rockets got 14 points from Garson Imes, as well as Gage Galigher's 13 points.
Malvern boosted their record to 6-0 overall and 4-0 in IVC play.
HILAND 52, SANDY VALLEY 36
Hiland remained unbeaten in IVC play by beating Sandy Valley on Tuesday.
The Hawks moved to 5-1 (4-0 IVC), while the Cardinals fell to 3-4 (1-2 IVC).
INDIAN VALLEY 46, CLAYMONT 34
Indian Valley picked up their first conference win of the season with a 12-point decision over Claymont.
The Braves advanced to 3-3 overall and 1-3 in the IVC.
Graydon Mooneyham led the Mustangs (1-7, 0-5) with 14 points.
BUCKEYE TRAIL 57, EAST CANTON 49
Host Buckeye Trail won over the East Canton Hornets on Tuesday.
The Warriors (3-4, 2-2 IVC) were led in scoring by Garrett Burga's 16 points, along with 10 points from Franko Rome.
E.C. (3-4, 2-3) was led by Caleb Shilling, who totaled 11 points.