Strasburg freshman Rylee Thomas scored 17 of her 23 game points in the second half of the Tigers' 49-32 victory over Buckeye Trail High School on Wednesday night in Lore City.
Strasburg (7-1, 4-0 IVC) also got 13 points from Madi Becker, as well as eight points from Amelia Spidell (all in the first half).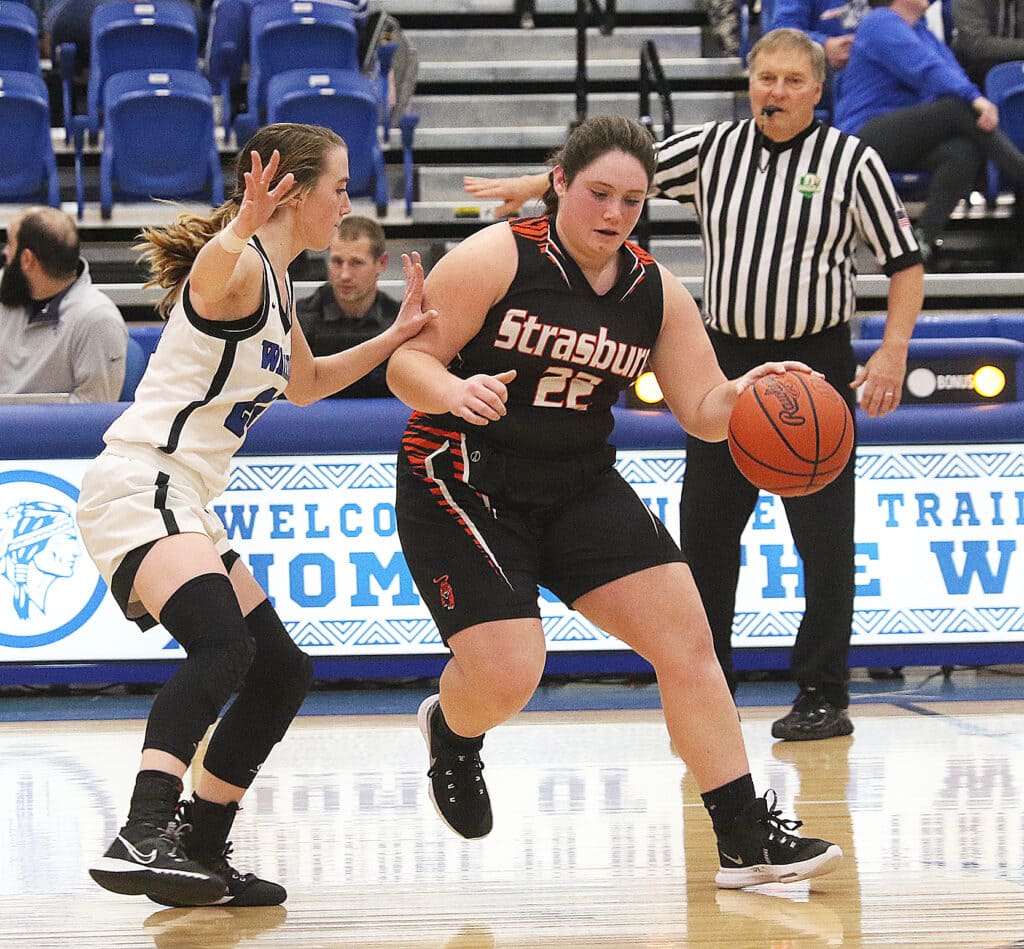 The Warriors (2-4, 1-2 IVC) were led by Kasey Hastings in scoring, with 12 points.
WEST HOLMES 43, DOVER 42
A pair of 3-pointers late in Wednesday night's game between West Holmes and Dover clinched a victory for the Knights.
Kinsey Patterson scored 15 points for W.H., while Allie McMillen added 11 points and five rebounds.
Morgan Kiser led the Crimson Tornadoes with 20 points, and Ava Zobel racked up eight points and 10 rebounds.
The Knights improved to 6-1 on the season, while Dover fell to 1-5.
TUSCARAWAS CENTRAL CATHOLIC 45, MALVERN 43
Central Catholic remained unbeaten in a close matchup with Malvern on Wednesday in New Philadelphia.
Despite struggling from the free-throw line for the entirety of the contest (2-of-14, including 1-of-7 late in the game), the Saints (6-0, 4-0 IVC) were led by Reese Triplett's 18 points, including three 3-pointers. Meg O'Donnell also made three treys for nine points off the bench for T.C.C.
Maddie Powers led the Hornets (1-5, 1-2 IVC) with 20 points.
NEW PHILADELPHIA 63, CAMBRIDGE 42
The Lady Quakers kept their record spotless with a double-digit win over Cambridge on Wednesday night.
New Phila (6-0, 3-0 ECOL) picked up the home win by Ajia Schreffler's 20 points and 11 rebounds, while Alyssa Miller tallied 11 points and six rebounds and Audrey Harr posted 11 points and four assists.
Camryn Gebhart shouldered most of the Bobcats' offense with a game-high 31 points.
GARAWAY 29, CLAYMONT 25
Garaway muscled out a victory in a low-scoring affair with the Claymont Mustangs on Wednesday.
Meghan Schwartz scored nine points and Marley Metzger contributed six for the Lady Bucs (4-3, 2-2 IVC).
Makayla Frink led Claymont (3-3, 1-1 IVC) with seven points.
HILAND 35, INDIAN VALLEY 19
A 15-0 third quarter allowed Hiland to keep Indian Valley from its first win of the season in a 16-point victory.
The host Hawks (5-2, 3-1 IVC) got 11 points out of Aila Miller, and nine from Ashley Mullet.
The Braves (0-6, 0-4 IVC) were led by Makina Donehue's 11 points.
NEWCOMERSTOWN 30, EAST CANTON 29
The Trojans picked up their second win of the season in a close victory over East Canton High School.
Nc'Town improved to 2-5 (2-2 IVC), while the Wizards dropped to 1-6 (1-3 IVC).
TUSLAW 43, FAIRLESS 40 (2OT)
Tuslaw sweated out a double-overtime win over the Fairless Falcons.
Brianna Fitzgerald tallied 15 points for Tuslaw, along with Jada Weaver's 14 and Abby Holies's nine.
Grace Lyon led Fairless with a game-high 16 points.
CARROLLTON 56, BEAVER LOCAL 37
The Warriors picked up their first win of the year in a blowout win over Beaver Local.
Hillari Baker scored 14 points, Alicia Lebbano posted 11 and Grace Leslie had 10 for Carrollton (1-4).
Jordan Palmer led Local with 16 points.
MINERVA 47, CANTON SOUTH 41
The Minerva Lions picked up a six-point win over Canton South on Wednesday.
BOYS AND GIRLS SWIMMING
NEW PHILADELPHIA-BROOKE-OAK GLENN
New Philadelphia's girls won a triangular match over Brooke and Oak Glenn High Schools on Wednesday (102-95-14), while the Quaker boys finished second overall to Brooke (89-72-12).
First-place finished for N.P. were as follows:
Girls 200 Medley Relay, Kristian Neal, Xavianna Porter, Jordynne Weese, McKalynne Helmke, 2:11.12
Boys 200 Freestyle, Drew Hostetler, 2:08.54
Girls 200 IM, Jordynne Weese, 2:34.60
Boys 200 IM, Kenny Nguyen, 2:27.39
Boys 50 Freestyle, Steven Simpson, 25.37
Girls 100 Butterfly, Jordynne Weese,1:12.06
Girls 100 Freestyle, Xavianna Porter, 1:07.12
Boys 100 Freestyle, Steven Simpson, 57.41
Boys 500 Freestyle, Drew Hostetler, 5:56.97
Girls 200 Freestyle Relay. Kristian Neal, Alesia Alsept, McKalynne Helmke, Jordynne Weese, 2:00.57
Boys 200 Freestyle Relay, Kenny Nguyen, Drew Hostetler, Steven Simpson, Brenton Billman, 1:44.54
Girls 100 Backstroke, Kristian Neal, 1:16.53
Boys 100 Backstroke, Brenton Billman, 1:07.06.