For the first time in school history, the Minerva Lady Lions cross-country team has won a state championship.
The Lady Lions narrowly won the championship by a mere three points, edging out Granville 136-139.
Minerva entered the tournament at the top of the polls, but that isn't always a guaranteed win. Coach Olivia Scott knew her team still had to put in the work to finish at the top.
"This week is the first time we were ranked first all season, we were fifth before that and you know, I kept telling the girls were underrated  but that's good," said Coach Scott following her team's state championship. "These girls wanted to win today."
By the end of the first mile, Minerva was sitting in seventh place, but they quickly gained ground on the team's in front of them.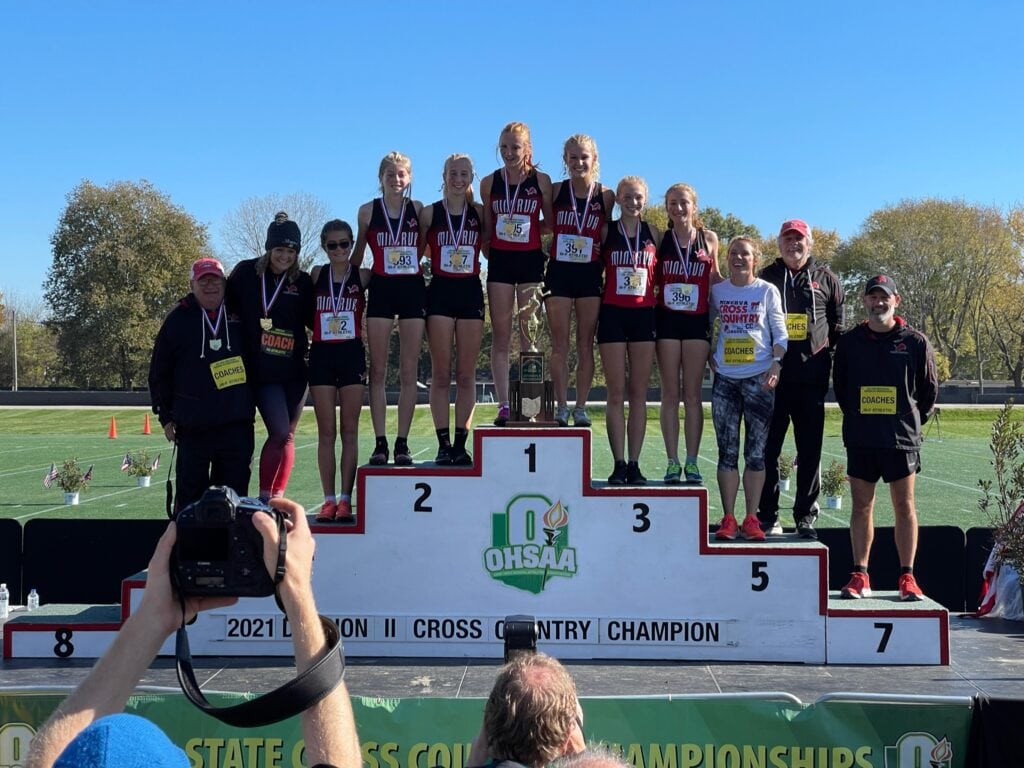 "When we were in third in mile two, I just thought 'oh my god, we're going to do this,'" she said. "It was close but we did it."
The girls were led to victory by junior Hera Hoffee, who placed 21st with a time of 19:01.4.
"It's just really exciting, I'm stunned right now. It was crazy. At the beginning of the season, I never would've thought that we would finish first," Hoffee said following the championship race. "I knew top three was our potential, but first place is insane and I'm just so excited."
Minerva's runners stayed together in a pack, and that's what pushed them to victory, despite their top placer finishing 21st.
Senior Jenna Cassidy posted a time of 19:12.4 to finished 31st, Hannah Ison crossed the finish line 42nd (19:28), Caitlyn Hopple placed 73rd (20:04.3).
Kayla Crissman and Tori Dunham rounded out the finishers for Minerva.
Cassidy is the only senior on the team. She said it's been a pleasure competing at such a high level with her teammates.
"It's amazing. Like I was telling them (teammates) last year at the end of the season, we didn't do exactly how well we wanted to, we got ninth," Cassidy said.
Cassidy noted how much Coach Scott has impacted her and the team.
"Our coach has done so much for us and I'll be back to cheer them on every year," said Cassidy.