Massillon Washington won their 6th consecutive rivalry game against Canton McKinley High School in a 35-13 decision at Tom Benson Hall of Fame Stadium on Saturday.
The Tigers extended their winning streak to five and boosted their record to 8-2 heading into next week's Division II, Region 7 playoff opener. The Bulldogs, meanwhile, fell to 6-4 and will head into the postseason as a top-four seed in Division I, Region 1.
McKinley held an early opening-quarter lead as Khris Williams ran for a 13-yard touchdown for a 6-0 Bulldogs lead (extra point attempt was blocked by Tigers defender Austin Brawley). However, the Tigers took the lead on Freddie Lenix Jr.'s 49-yard rushing touchdown. After the Bulldogs took back a 13-7 lead on Amarion Williams' touchdown run, and three fruitless first-half Tiger drives (on a fumble, a missed field goal, and an interception) kept Massillon from the lead until the second half.
Massillon quarterback Darrius McElroy gave Washington a 14-13 lead in the third quarter on a 4-yard sneak into the end zone. On McKinley's ensuing drive, Brawley intercepted Bulldogs quarterback Keaton Rode and returned it to Canton's 8-yard line. McElroy scored on the first play of the new drive, giving the Tigers a 21-13 lead with 5:42 left in the 3rd.
Lenix added a 68-yard TD run early in the final period for a 28-13 lead, followed by a late touchdown run by Nathan Depuy to complete Massillon's scoring.
The win for the Tigers marked the longest win streak for either school in the long-standing rivalry since Massillon won nine straight contests from 1957-61.
DIVISION I STATE GOLF TOURNAMENT
New Philadelphia High School's boys' golf team competed in the two-day Division I State Tournament at The Ohio State University Golf Club's Scarlet Course in Columbus.
The Quakers finished with a 36-hole total of 683 (338-344) to round out the 12-team field.
Shad Kenily was the top golfer for New Phila, posting totals of 77 and 79 to finish at 156 (+14). Nathan Menapace, the only Quaker golfer besides Kenily to break 90 for both days, posted consecutive 85s (170 total).
Austin Erickson (90-86-176), Louis Devore (86-95-181), and Jacob Hootman (96-94-190) also competed for the weekend.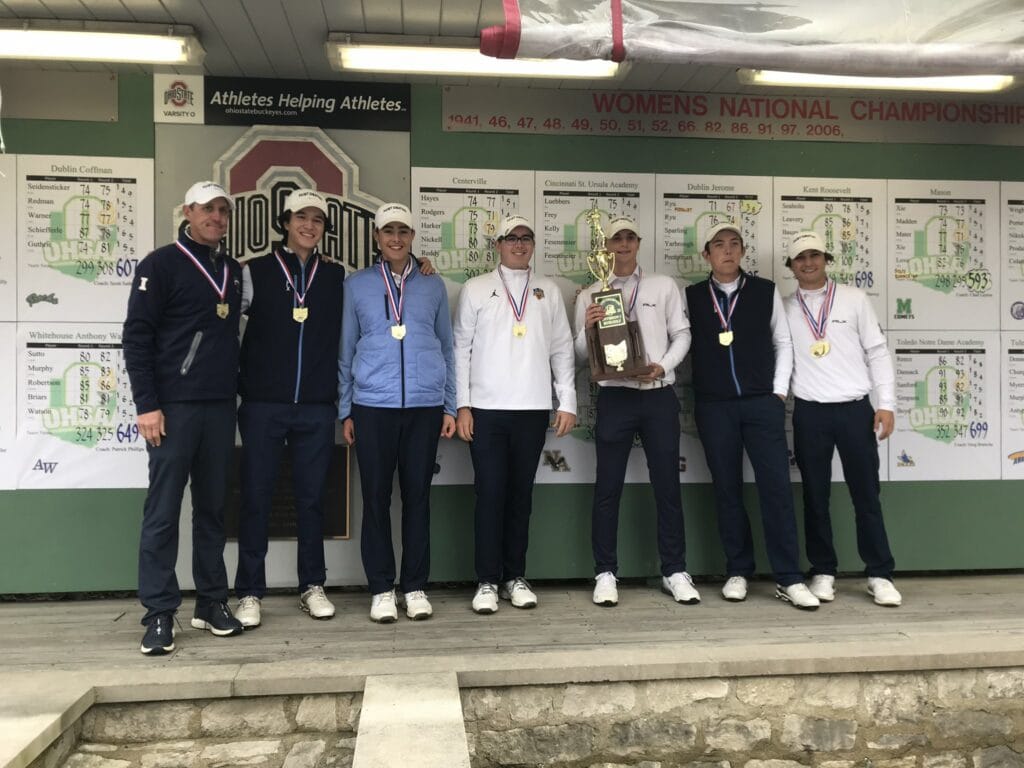 Cleveland St. Ignatius won the tournament with a record-breaking team total of 591 (293-298) – six shots ahead of runners-up Akron Archbishop Hoban (295-302-597), and the lowest team total in tournament history at the Scarlet Course. Topher Reed (72-71-143, +1) finished tied with Lakota West's Joe Wilson (69-74-143, +1) as the top individual (Wilson taking individual honors with Reed winning with Ignatius).
The Wildcats won their third state golf title in school history and their first since 2002.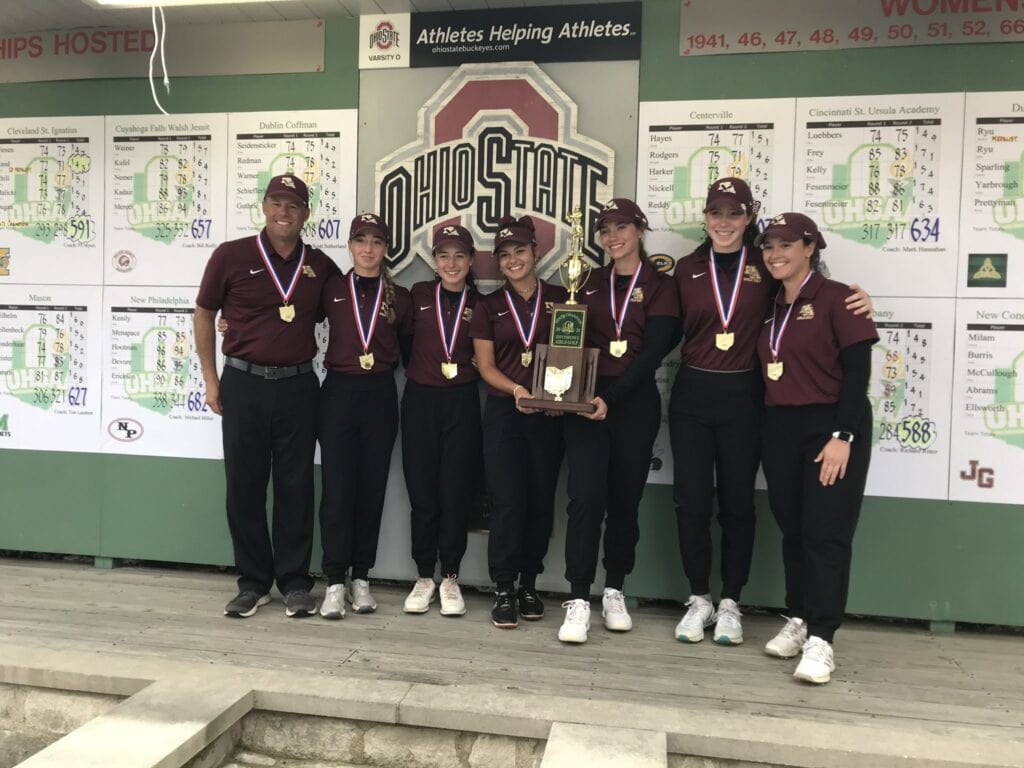 In the girls' Division I Tournament at the Gray Course, New Albany High School won their fourth straight state championship with a team total of 608 (304-304), while Dublin Jerome's Audrey Ryu (71-67-138, -3) won the individual title.