The Sandy Valley Cardinals had won four straight games since their Week 1 loss to Fairless, including a spectacular 22-21 comeback win over Malvern on Sep. 10.
That winning streak came to an end in Magnolia on Friday as the Indian Valley Braves posted a 41-7 domination over the host team.
The Braves forced eight turnovers, including four interceptions – three of them from starting Cardinals QB Nick Petro – to give Brian Gamble's offense plenty of struggles throughout the night.
"Our defense was playing relentless," Indian Valley head coach Matt Lancaster said following the win. "And [the Cardinals have] got a good offense, explosive offense. To get a turnover right away, it really got the momentum in our favor at the start of the game."
Indeed, the Braves defense set the tone with an early pickoff on Sandy Valley's opening drive, which was tipped into the air and caught by I.V. senior Evan Broome. The Braves would eventually take a 7-0 lead on Gavin Henry's 27-yard touchdown run.
The next drive for each respective team ended in nearly identical ways; Petro threw an interception to Colton Thomas, and Indian Valley scored on a 20-yard touchdown run by Tyson Pryor (13 carries, 92 rushing yards) to take a 14-0 lead.
Going into the second quarter, the Cardinals managed to get past the midfield line but failed to convert on 4th down for the first of four times on the game, and Sam Zurcher put the exclamation point on I.V.'s ensuing drive with a 1-yard touchdown rush.
Later in the half, Brogan Burcher added another touchdown run to give the Braves a 28-0 advantage, but Sandy Valley broke through on the first half's final drive on a Ben Petro's five-yard scoring run – making the score 28-7 at the break.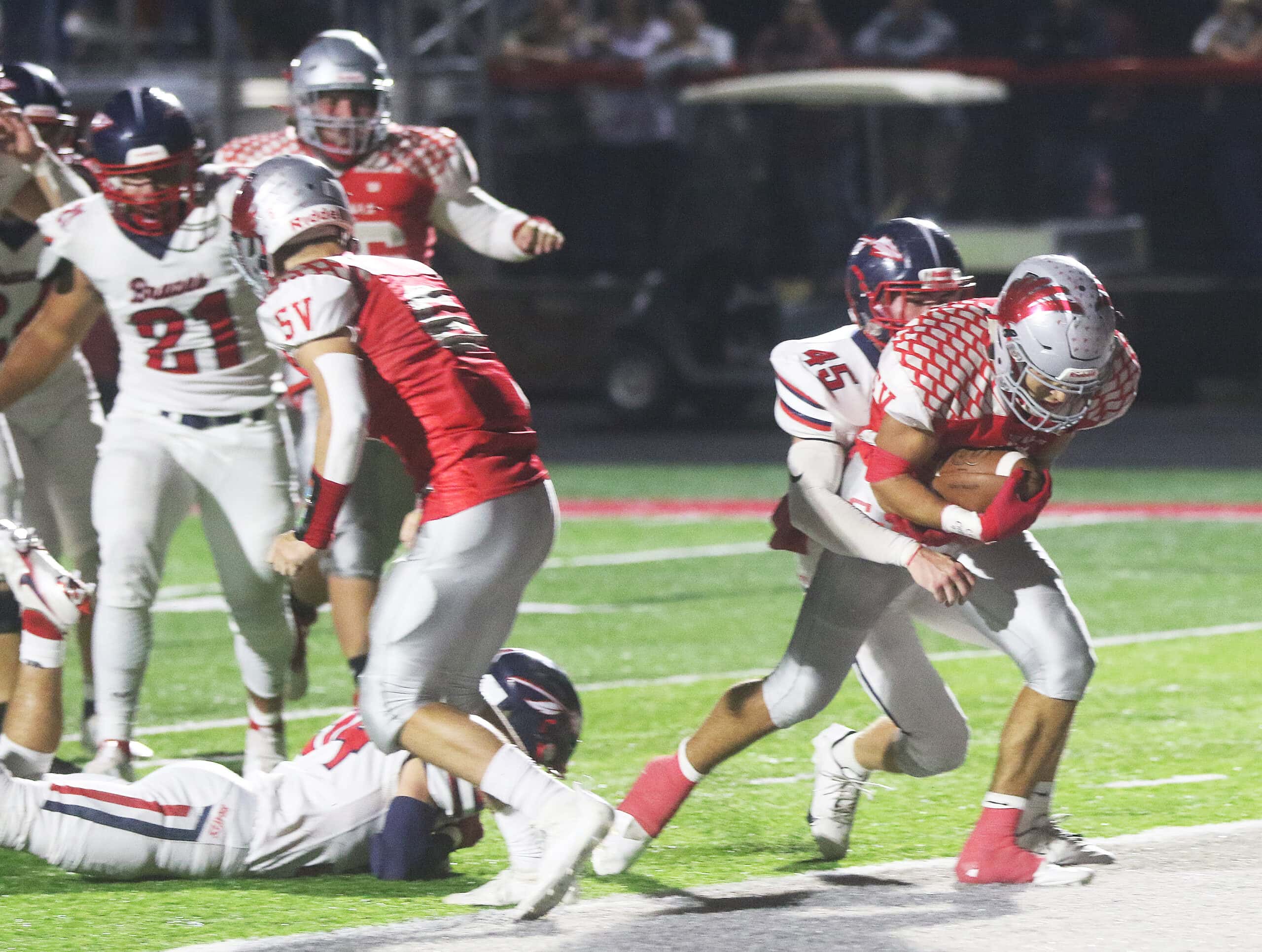 In the third quarter, Sandy Valley took the ball first and pushed down to the Braves' 10 yard-line, hoping to cut the lead even further. However, the Braves' defense stood firm and forced a turnover on downs on the Cardinals. Indian Valley would eventually score on Sam Carter's 11-yard touchdown run – the only score for the Braves' quarterback (6/7, 134 passing yards).
Braves freshman Eric Golder added a late touchdown run for the Braves with 4:19 remaining.
Indian Valley moved to 4-0 (1-0 IVC) with the win, while Sandy Valley fell to 4-2.