Pro Football Hall of Famer Jerry Rice made his presence in Newcomerstown early Friday afternoon.
Appearing at the Baker's IGA supermarket on the town's College Street, Rice met and greeted over 100 eager fans to sign autographs, take pictures, and promote his new energy drink brand, G.O.A.T. Fuel.
"I'm real thankful they're going to carry it here at Baker's IGA," Rice said after the meet and greet. "There's a lot of energy drinks out there, and I wanted this to be more of a family…and we came up with something. I've got a great team of guys, and we're just pounding, and we're going to keep getting better and better."
G.O.A.T. Fuel, which lists eight different flavors on the drink's website, was promoted and given away to fans, with Watermelon Fruit Punch, Peach Pineapple, Tropical Berry, and Blueberry Lemonade as the store's available flavors.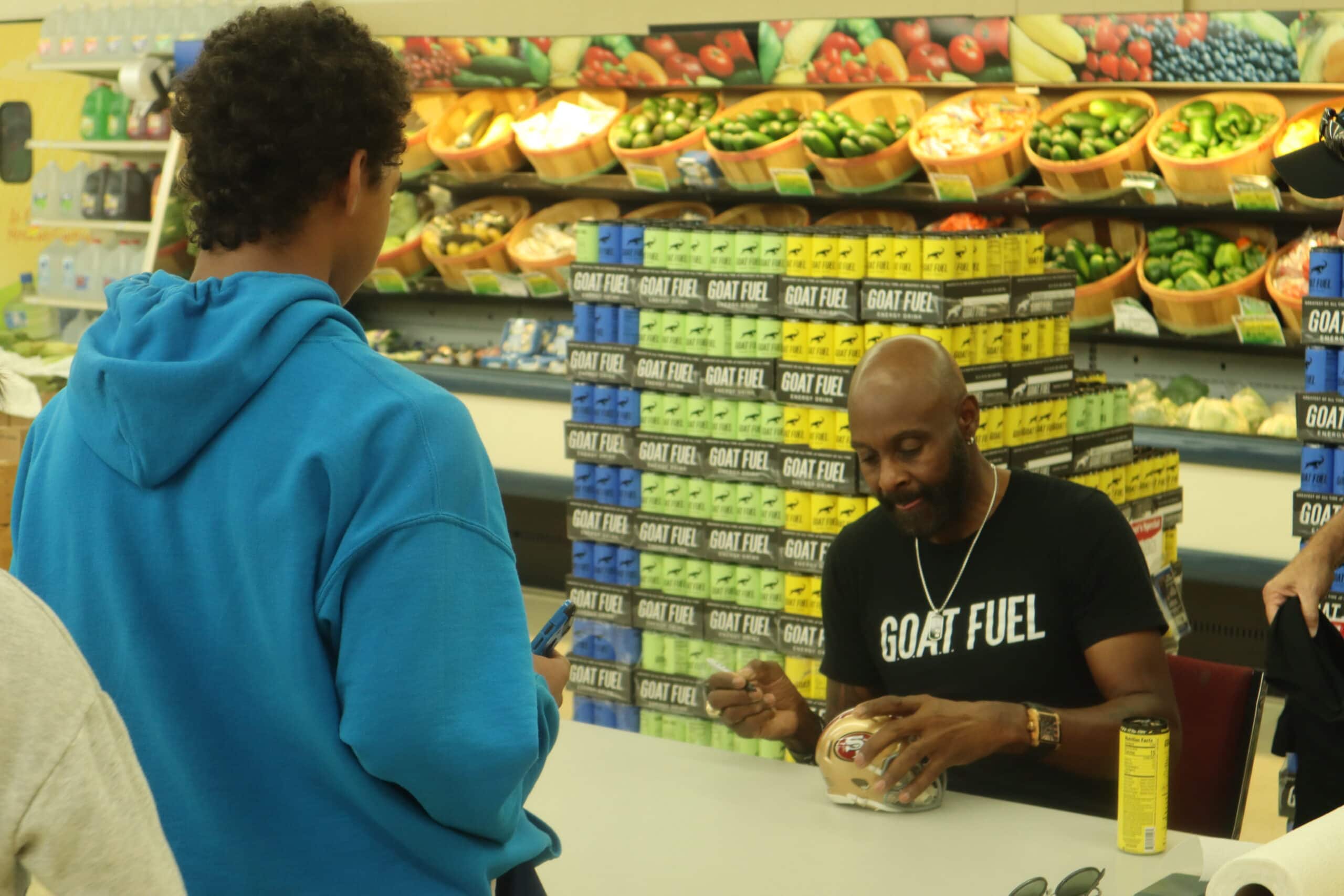 Many starry-eyed fans arrived at Baker's IGA as early as 7 a.m. to meet Rice, who arrived at noon. Men, women, boys, and girls stood in line holding footballs, pictures, shirts, jerseys, and cameras for pictures. Many of them came furnishing San Francisco 49ers memorabilia – for the team which Rice spent 16 years of his Hall of Fame career.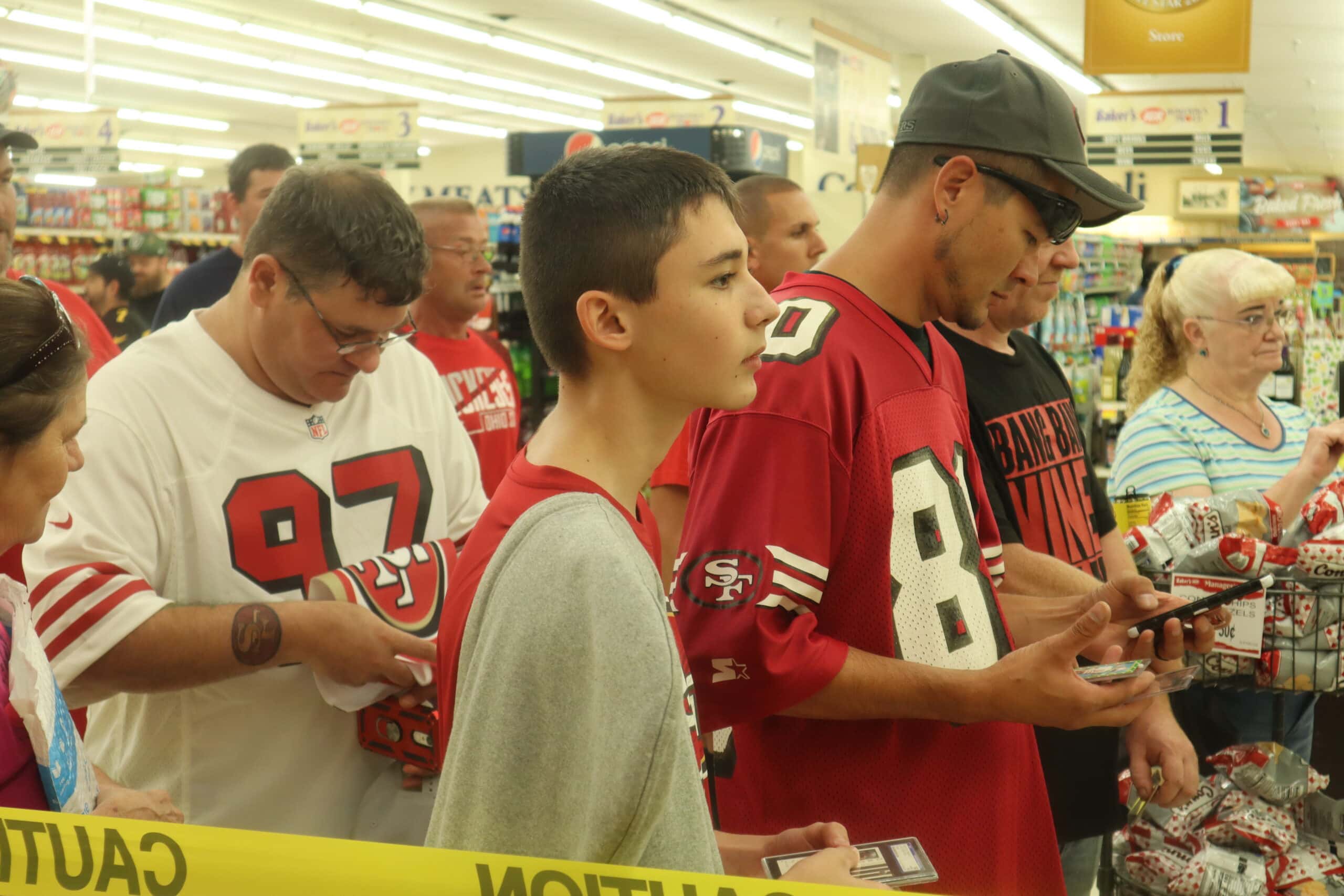 After the meet and greet, Rice made his way outside to meet with Newcomerstown's football team ahead of their evening game at Conotton Valley.
"It was awesome, man. He's the best receiver ever," said Dominique Millender.
"[The 49ers] are my favorite NFL team," said wide receiver/cornerback Zach Quillen. "So it's kind of awesome to see one of the players for them."
However, one Trojans player even said: "I'll be honest, I'd never heard of him until today."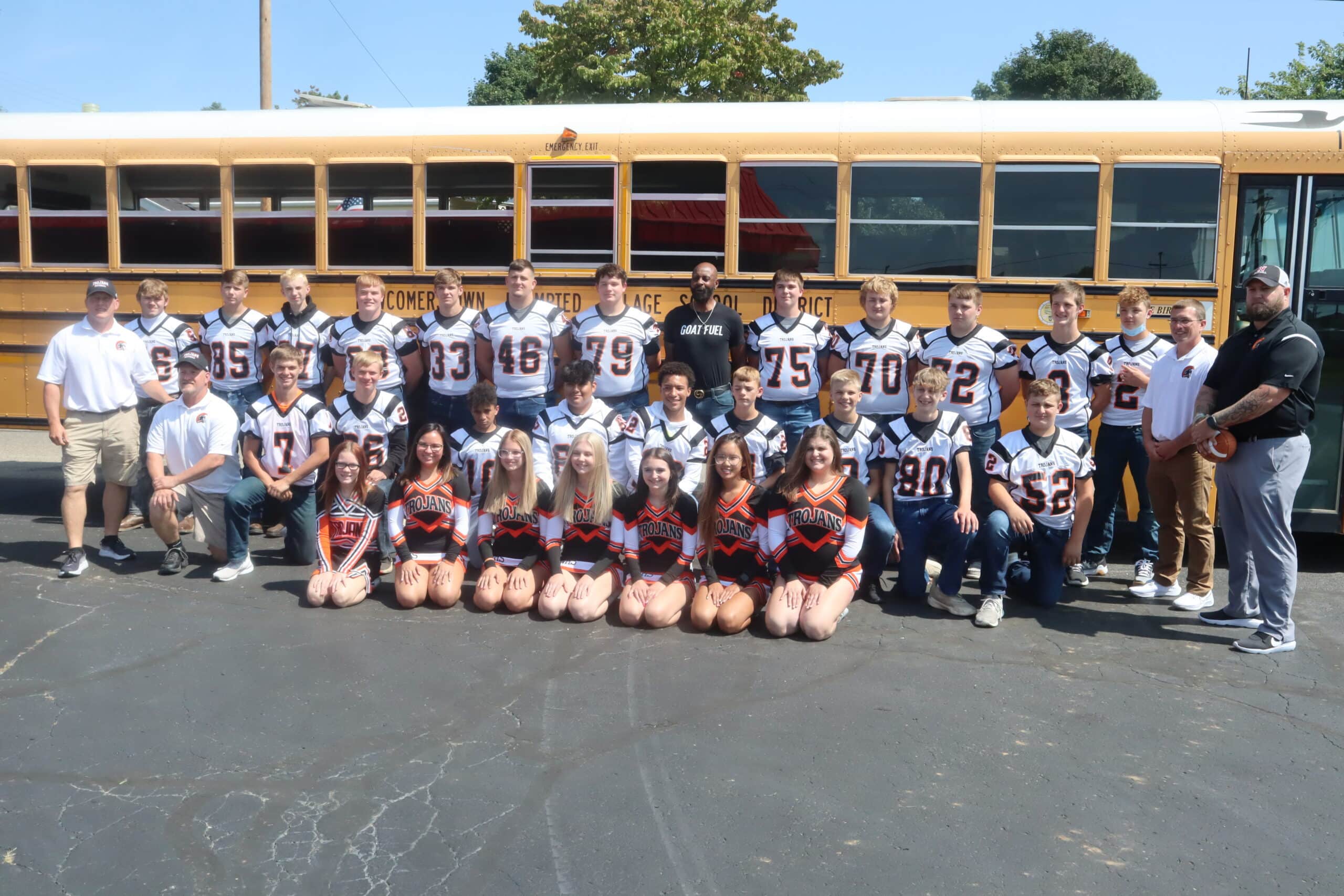 Rice is one of the most celebrated professional football players of all time. In 20 NFL seasons (1985-2004) with the San Francisco 49ers, Oakland Raiders, and Seattle Seahawks, Rice earned 13 Pro Bowl and 12 All-Pro nods, along with being the 1987 NFL Most Valuable Player and a two-time AFC Offensive Player of the Year (1987, 1993). Rice also won three Super Bowl titles with the 49ers, including the MVP honors for Super Bowl XXIII. He was also a six-time NFL season leader in receiving yards (1986, 1989, 1990, 1993-95) and receiving touchdowns (1986, 1987, 1989-1991, 1993), and a two-time season leader in receptions (1990, 1996).
Rice, who was inducted to the Pro Football Hall of Fame in 2010, also set multiple NFL records for the wide receiver position, including in career receiving yards (22,895), receptions (1,549), receiving touchdowns (197), total touchdowns (208), and all-purpose yards (23,546).